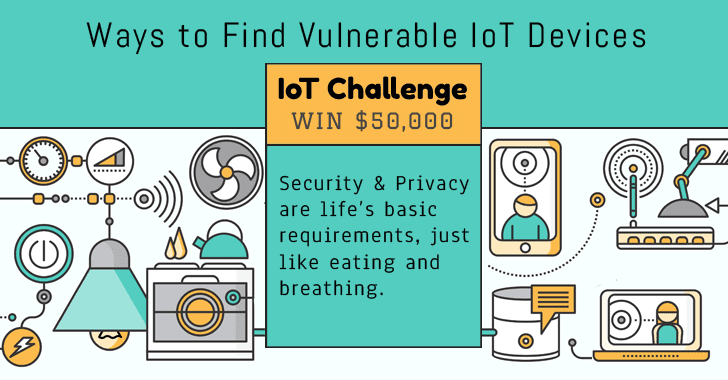 If you are concerned about the insecurity of Internet of Things, have good hands at programming and know how to hack smart devices, then you can grab an opportunity to earn $50,000 in prize money for discovering the non-traditional ways to secure IoT devices.
Internet of Things (IoT)
market is going to expand rapidly over the next decade. We already have 6.5 billion to 8 billion IoT devices connected to the Internet worldwide, and the number is expected to reach 50 billion by 2020.
While IoT is going to improve life for many, the number of security risks due to lack of stringent security measures and
encryption mechanisms
in the devices have increased exponentially.

This rise in the number of security risks would continue to widen the attack surface, giving hackers a large number of entry points to affect you some or the other way.
Recently, we saw a
record-breaking DDoS attack
(Distributed Denial of Service) against the France-based hosting provider OVH that reached over one Terabit per second (1 Tbps). The attack was carried out via a botnet of infected IoT devices, dubbed
Mirai Malware
.
So, the threat to and with IoT is Big, and we have to look for a solution right now because tomorrow it will be very late.
We already have some ways to find vulnerable IoT devices, like Shodan and
Censys search engine
. While Shodan has been designed specifically to locate any devices that have been carelessly plugged into the Internet, Censys employs a more advanced approach to finding vulnerabilities in the devices by daily scanning the whole Internet.
However, other creative ways to discover vulnerable IoT devices include a
Flying Drone with a tracking tool
capable of sniffing out data from Internet-connected devices.
Challenge — Find Ways to Detect Vulnerable IoT Devices
Now, in an attempt to find a solution that can help network admins monitor IoT devices, non-profit research and development organization
MITRE has challenged
researchers to come up with new ideas for detecting rogue IoT devices on a network.
The good news: You can earn $50,000 for your idea.
UPCOMING WEBINAR
🔐 Mastering API Security: Understanding Your True Attack Surface
Discover the untapped vulnerabilities in your API ecosystem and take proactive steps towards ironclad security. Join our insightful webinar!
Join the Session
Researchers who will find and report a non-traditional, game-changing approach for identifying IoT devices while passively observing the network, without the requirement of modification to the existing protocols and manufacturing, can earn up to $50,000.
"We are looking for a unique identifier or fingerprint to enable administrators to enumerate the IoT devices while passively observing the network," reads MITRE website.
Along with the prize money, MITRE has also promised:
Recognition and Promotion.
The opportunity to connect with government agencies looking for IoT solutions.
The chance to work with MITRE experts to better understand the government's needs.
The MITRE IoT team has created a model home network that will serve as a testbed for the Challenge. This powerful home network includes a broad range of affordable devices with diverse operating characteristics.
"We believe that the identification techniques that prove effective in a home system will translate to industrial, healthcare, military, smart city, and other IoT networks," the team writes.
This Challenge is open to individual entrepreneurs, college teams looking for showcasing their talents and small companies who want to make their mark in the IoT market.
The registration period has already started so that you can
register here
. The challenge will begin in early November for approximately six weeks, so all participants will have to demonstrate a unique, simple and affordable solution to identify rogue IoT devices within this short period.
The winner will be announced before the end of December. So, if you think you have the potential to find out a solution to this issue, then what are you waiting for? Register yourself today.