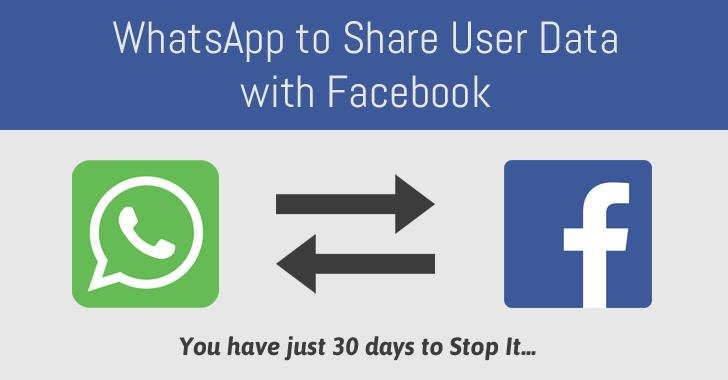 Nothing comes for Free, as "Free" is just a relative term used by companies to develop a strong user base and then use it for their own benefits.
The same has been done by the secure messaging app WhatsApp, which has now
made it crystal clear
that the popular messaging service will begin sharing its users' data with its parent company, Facebook.
However, WhatsApp is offering a partial opt-out for Facebook targeted ads and product related purposes, which I will let you know later in this article, but completely opting out of the data-sharing does not seem to be possible.
Let's know what the company has decided to do with your data.
Of course, Facebook is willing to use your data to sell more targeted advertisements.
WhatsApp introduced some significant changes to its
privacy policy
and T&Cs today which, if accepted once, gives it permission to connect users' Facebook accounts to WhatsApp accounts for the first time, giving Facebook more data about users for delivering more relevant ads on the social network.
The messaging service will also begin pushing users to share some of their account details, including phone numbers, with Facebook, allowing the social network to suggest phone contacts as friends.
When Facebook
acquired WhatsApp for $19 Billion
in 2014, users were worried about the company's commitment to protecting its users' privacy. But, WhatsApp reassured them that their privacy would not be compromised in any way.
"Respect for your privacy is coded into our DNA, and we built WhatsApp around the goal of knowing as little about you as possible," said WhatsApp co-founder Jan Koum in a blog post published at that time.
Now the WhatsApp users are feeling betrayed by the company's latest move.
However, you need not to worry about the contents of your WhatsApp messages, like words and images, as they are
end-to-end encrypted
, meaning that even the company cannot read them.
Ultimately, the two companies will be sharing, what they called, a limited amount of user data, which includes phone numbers and other information about users.

No Option to Completely Opt-Out of Data Sharing
If you think WhatsApp is more privacy conscious than Facebook's Messenger, it is not anymore.
WhatsApp is offering a solution partially to opt out the data sharing, specifically for Facebook ad targeting and product-related purposes.
However, the company notes that data will still be shared "for other purposes such as improving infrastructure and delivery systems, understanding how our services or theirs are used, securing systems, and fighting spam, abuse, or infringement activities."
So, those who are thinking to opt out of the data-sharing entirely: There's no possible way to opt totally out.
Though one short solution is to stop using WhatsApp.
Here's How to opt -out of sharing data for Facebook ad-targeting purpose: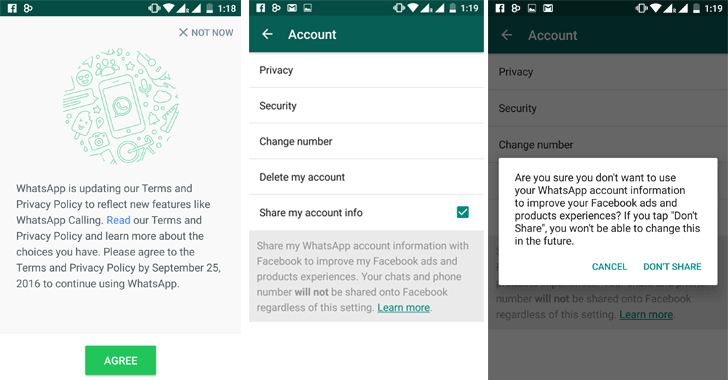 The company has outlined two ways to opt out of the exchange of information with Facebook on its
blog
.
One way is for those users who have not yet agreed to the new terms of service and privacy policy, so before agreeing to the new terms, follow these simple steps:
When prompted to accept the updated T&Cs, tap Read to expand the full text.
A checkbox option at the bottom of the policy for sharing your data on Facebook will appear.
Untick this option before hitting Agree. This will let you opt out of the data-sharing.
The second option is for those who have already accepted the new T&Cs without unchecking the box to share their information with Facebook.
WhatsApp is also offering a thirty-day window for users to make the same choice via the settings page in the app. To exercise your opt-out in this scenario you need to follow these steps:
Go to Settings → Account → Share my account info in the WhatsApp app
Uncheck the box displayed there within 30 days, as after that this partial opt-out window will expire.
However, WhatsApp states Facebook will still receive your data in some situations.


After introducing
end-to-end encryption
, WhatsApp has become one of the most popular secure messaging apps, but this sudden shift in its privacy policy may force some users to switch to other secure apps like
Telegram
and
Signal
.