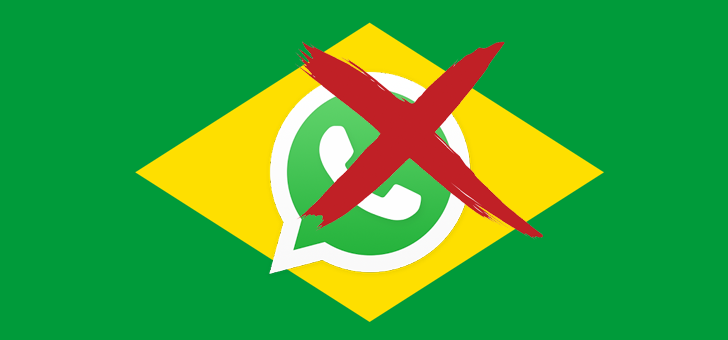 In Brief
For the second time in past five months, a Brazil court ordered local telecommunications companies to block the popular messaging app WhatsApp for 72 hours, afterFacebook-owned WhatsApp company refused to hand over information requested in a drug trafficking investigation. The WhatsApp's shutdown is affecting more than 100 million users throughout the country. Moreover, if Brazilian telecommunications companies do not comply, they could face a fine of $143,000 per day.

Brazil just blocked its roughly 100 Million citizens from using WhatsApp, the popular messaging service owned by Facebook, for 72 hours (3 days).

A Brazilian Judge ordered the blackout after WhatsApp failed to comply with a court order asking the company to help a branch of civil police access WhatsApp data tied to a criminal investigation.

This is for the second time in last five months when a Brazil court

ordered

local telecommunications companies to block access to the popular messaging service across the country.
The ruling came into effect at 2 p.m. local time (1 p.m. ET), after which an estimated 91 percent of Brazilian mobile users nationwide could not be able to send or receive any messages on WhatsApp, Local newspaper Folha de S.Paulo
reported
.
How to access WhatsApp in Brazil? Use
Orbot app
from Tor project.
Penalty of $142,000/Day for Not Complying
Moreover, if any service provider found violating the court order, it would subject to a
penalty of $142,000 per day
.
WhatsApp is very disappointed by the move, saying the decision
"punishes more than 100 million users who depend upon us [WhatsApp] to communicate themselves, run their business and more, just to force us to hand over information that we do not have."
WhatsApp recently enabled complete
End-to-End encryption
for its text, image and voice messages, which means that even the company would not be able to access any message exchanged between users. This made matter even worse for the Brazilian police.
In December, a São Paulo state judge ordered the shutdown of WhatsApp across the country for 48 hours after Facebook failed to comply with a criminal investigation, although the court ruling was overturned by another court the next day.
The blackout comes courtesy of Judge Marcel Maia Montalvão of Sergipe state, the same judge who in March ordered the
imprisonment of a Facebook executive
for not turning over private data from a WhatsApp account tied to a drug trafficking investigation. He was jailed and subsequently released the next day.