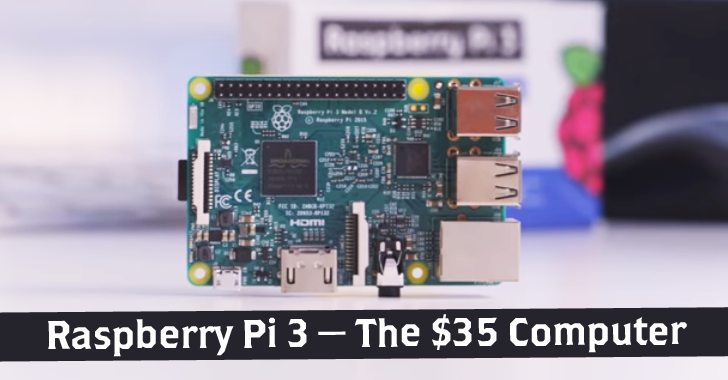 While celebrating its computer's fourth birthday, the Raspberry Pi Foundation has launched a brand new Raspberry Pi today.
Great news for all Micro-computing fans – A new, powerful Raspberry Pi 3 Model B in town.
The Raspberry Pi is a highly simple computer that looks and feels very basic, but could be built into a number of geeky projects. Due to its low-cost appeal, the Raspberry Pi has become the most popular computer yet with 8 Million units already sold.
Raspberry Pi 3 — Built-in Wi-Fi and Bluetooth
Although previous versions of Raspberry Pi needed USB adapters to get Wi-Fi and Bluetooth connectivity, credit card-sized Raspberry Pi 3 Model B has built-in Wi-Fi and Bluetooth connectivity.
The new version of the Pi supports 802.11n Wi-Fi (2.4GHz only) and Bluetooth 4.1, freeing up its four USB ports for other purposes.
The Raspberry Pi 3 is also getting a speed jump from a 32-bit processor, 900MHz quad-core ARM Cortex A7, to a faster 64-bit processor, quad-core 1.2GHz ARM Cortex-A53 CPU.
The new Raspberry Pi is expected to give 50 percent faster performance than the previous version due to architectural improvements and increase in clock speeds, says Eben Upton, CEO of Raspberry Pi.
At a launch event today the Raspberry Pi Foundation said it has worked closely with Microsoft to ensure full compatibility between the new Pi 3 board and Windows 10 IoT.
Raspberry Pi 3 Model B: The $35 MicroComputer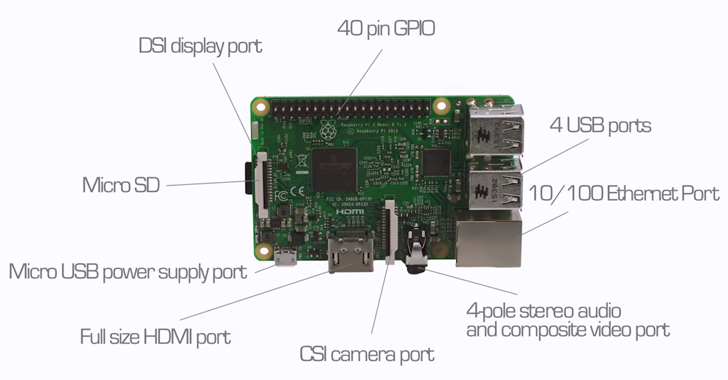 The Raspberry Pi 3 is still just $35, but might be the biggest when looking at its specifications:
1.2GHz Quad-Core Broadcom BCM2387 ARM Cortex-A53 processor
Graphics upgrade from 250MHz to 400MHz Dual Core VideoCore IV GPU
802.11n Wi-Fi
Bluetooth 4.1 (Bluetooth Classic and LE)
Support 1080p video at 60fps using the H.264 format, up from 30fps
1GB RAM (same as the previous version)
MicroSD Card Slot
Operating System: Operating System Boots from Micro SD card, running a version of the Linux operating system or Windows 10 IoT
Ethernet connectivity remains at 100Mbps
Requires a 2.5A input power
Video Output: HDMI (rev 1.3 & 1.4, Composite RCA (PAL and NTSC)
Audio Output: 3.5mm jack, HDMI, USB 4 x USB 2.0
The all-new and powerful version of Raspberry Pi 3 brings a host of new hardware that makes it a much more powerful computer.
The company said it will also introduce a Raspberry Pi BCM2837-based Compute Module 3, an even smaller board designed for industrial applications, in the next few months. The Compute Module won't include any WiFi connectivity, but will have the same 1.2GHz Cortex A53 processor and 1GB RAM as the Raspberry Pi 3.