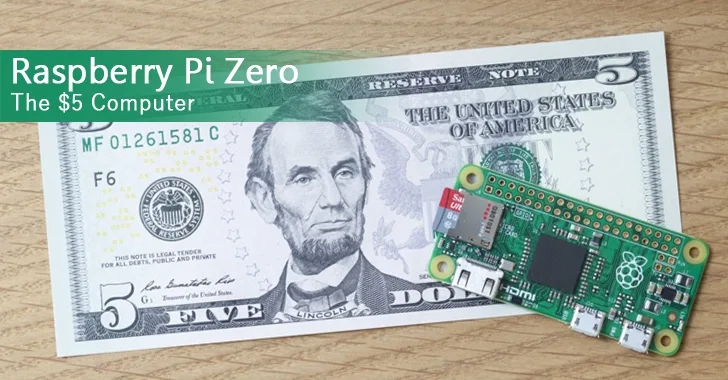 Get ready for a ThanksGiving celebration from the Raspberry Pi Foundation.
Raspberry Pi, the charitable foundation behind the United Kingdom's best-selling computer, has just
unveiled
its latest wonder – the
Raspberry Pi Zero
.
Raspberry Pi Zero is a programmable computer that costs just $5 (or £4), may rank as the world's cheapest computer.
Raspberry Pi Zero: Just $5 Computer
Yes, Pi Zero is the smallest Raspberry Pi yet for just $5, but might be the biggest when looking at its specifications:
Broadcom BCM2835 application processor (same as Pi 1)
1GHz ARM11 core (40 percent faster than Raspberry Pi 1)
512MB of LPDDR2 SDRAM
Micro-SD card slot
MiniHDMI socket for 1080p60 video output
Micro-USB for data
Micro-USB for power
Unpopulated 40-pin GPIO connector
Identical pinout to Model A+/B+/2B
Unpopulated composite video connector
Smallest ever form factor (i.e. 65mm x 30mm x 5mm)
Get Your Raspberry Pi Zero Now!
The Raspberry Pi is responsible for the creation of credit card sized computers, but after years of working to lower the size and cost, founder Eben Upton says the foundation came up with Raspberry Pi Zero that is about the size of a stick of gum and costs just US$5.
Upton said the Pi Zero, made in Wales and runs full Raspbian and all your favorite applications including
Scratch
,
Sonic Pi
and
Minecraft
, was as revolutionary as the first Pi.
Also Read:
CHIP — The World's First $9 Computer
.
The Raspberry Pi Zero is on sale from today and is also given away with this month's copy of the Raspberry Pi own magazine
MagPi
(available at Barnes & Noble and Microcenter).
You can order the Pi Zero, which is also available in the UK from element14, The Pi Hut and Pimoronia; in Europe from The Raspberry Pi Swag Store; and in the US from Adafruit and in Micro Center stores.
Note: Orders are limited to two per person at launch.