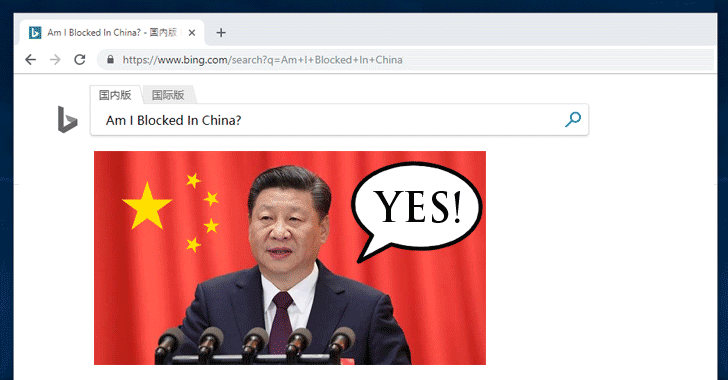 Update:
Microsoft's search engine Bing has been restored in China after being inaccessible in the country for almost two days. According to
sources
familiar with the matter, Bing was blocked due to an accidental technical error and not due to an attempt at censorship.
China has blocked Microsoft-owned search engine
Bing
, the company confirmed after receiving complaints from users throughout the country who took to social media beginning late Wednesday to express concerns.
So, Bing becomes the latest service to be shut down by Chinese government behind its so-called
Great Firewall of China
, which blocks thousands of websites originating in the west including Facebook,
WhatsApp
, Twitter, Yahoo, and Google.
The news came as a surprise because Microsoft's search engine actually followed China's strict rules on censoring search results.
Online service WebSitePulse that tracks outages in China also confirmed that cn.bing.com—the web address for Bing in China since its launch in June 2009—was inaccessible in several parts of the country.
After investigating reports from Chinese users, a Microsoft spokesperson has "confirmed that Bing is currently inaccessible in China" and that the company is "engaged to determine next steps."
Microsoft's Bing becomes the second major search engine to ban from China, after Google search, which left the country, along with other Google websites in 2010, in order to avoid
Chinese censorship
.
However, late last year it was revealed that Google had secretly been working on a
censored version of its search engine
to make a comeback in China, after an eight-year-long absence of the company from the country with the world's largest market of internet users.
Although the apparent cause of the ban remains unknown, the ban comes a day after China's top search engine Baidu received
complaints
that it was promoting low-quality pieces from its news organization Baijiahao in its search engine, weighing down its shares.
State-owned telecommunications operator China Unicom confirmed that Bing had been blocked in the country after a government order, the Financial Times
reported
on Wednesday, citing two sources familiar with the matter.
If users attempt to access Bing in China, the browser displays in a "connection error." This is because the
Chinese Great Firewall
has now been configured to corrupt the connection and stop resolving the domain name associated with the banned IP address of Bing's China site.
To access Bing in China, users can do a little about it, because to visit censored websites, users need to rely on
VPN services
, but the Chinese government has been
cracking down on the use of VPN
services in the country.
This is not the first time China has blocked a Microsoft service. In November 2017, the country pulled Microsoft's Skype Internet phone call and messaging service from Apple and Android app stores after the company refused to comply with their local laws.