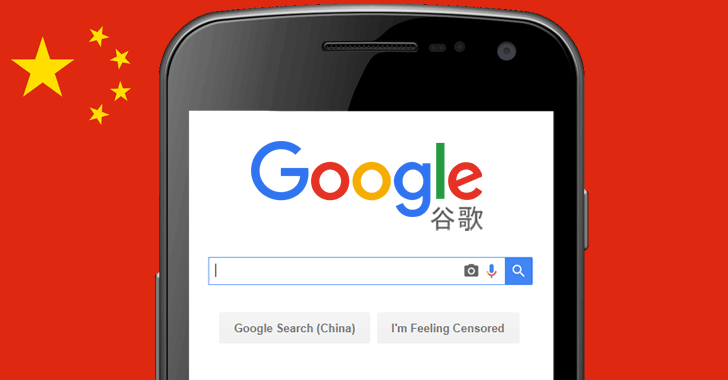 After an eight-year-long absence from the most populated country in the world, Google search is going to dramatically make a comeback in China.
Google is reportedly planning to launch a censored version of its search engine in China that is going to blacklist certain websites and search terms to comply with Chinese government's attempts to censor the Internet, a whistleblower revealed.
According to leaked documents
obtained
by The Intercept, CEO Sundar Pichai met with a Chinese government official in December 2017 to re-enter the world's largest market for internet users.
Project Dragonfly — Censored Google Search Engine
Since spring last year Google engineers have been secretly working on a project, dubbed "
Dragonfly
," which currently includes two Android mobile apps named—Maotai and Longfei—one of which will get launched by the end of this year after Chinese officials approve it.
The censored version of Google search engine in the form of a mobile app reportedly aims to "blacklist sensitive queries" and filter out all websites (news, human rights, democracy, religion) blocked by the Chinese government, including Wikipedia, BBC News, Instagram, Facebook, and Twitter.
Besides this, Google will also blacklist words like human rights, democracy, religion and peaceful protests in Chinese of its search engine app.
"Documents seen by The Intercept, marked 'Google confidential,' say that Google's Chinese search app will automatically identify and filter websites blocked by the Great Firewall," Intercept's journalist Ryan Gallagher said.
The censorship will also be embedded in Google's image search, spell check, and suggested search features, which eventually means the search engine will not display Chinese users potentially "sensitive" terms or images banned by their government.
Some 200 Google employees are working on the Dragonfly project, one of them spoke to the publication because he/she was "against large companies and governments collaborating in the oppression of their people."
"The source said that they had moral and ethical concerns about Google's role in the censorship, which is being planned by a handful of top executives and managers at the company with no public scrutiny," Ryan said.
The whistleblower also expressed concern that "what is done in China will become a template for many other nations," as well and it will be "a big disaster for the information age."
The news about Google's new move comes less than a month after Apple's Chinese data center partner
transferred iCloud data
, belonging to 130 million Chinese users, to a cloud storage service managed by a state-owned mobile telecom provider.
To comply with Chinese law and work in the mainland China, Apple moved the
encryption keys and data
of its Chinese iCloud users from its US servers to local servers on Chinese soil earlier this year, despite concerns from human rights activists.