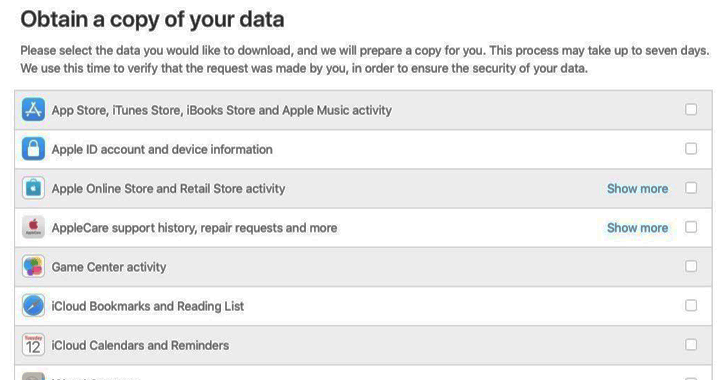 Apple is making it easier for its users to download their data the company has collected about them so far.
On Wednesday, Apple just launched a new Data and Privacy website that allows you to download everything that the company knows about you, from Apple ID info, device info, App Store activity, AppleCare history, your online shopping habits to all of your data stored in its iCloud.
A similar feature was recently offered by Facebook, enabling its users to
download all of their data
, not only what they have posted, but also information like facial recognition and location data, following the
Cambridge Analytica scandal
.
Apple has currently made this feature only available for people having accounts in European Union (along with Iceland, Liechtenstein, Norway and Switzerland), to comply with the
General Data Protection Regulation
(GDPR) act, which goes into effect on May 25.
However, Apple is planning to roll out this feature worldwide in the coming months. "We intend to provide these capabilities to customers around the world in the coming months," the company
wrote
.
The new GDPR act was passed with an aim to completely transform the way companies handle its users' personal data, giving users more control over their data. The act applies to all companies that collect the data of EU people, regardless of where they are based.
The GDPR will replace the British Data Protection Act 1998 from 25 May 2018.
The government has also warned businesses that if they fail to make changes in their policies before Friday, they could face fines of up to £17 Million (more than $22 Million), or 4% of their global turnover—whichever amount is higher.
That's why big companies like Apple have decided to inform their European customers about the new privacy policies.
Here's How to Download Your Data:
You can download all your data with a few simple clicks on the privacy portal.
Log in to privacy.apple.com on your Mac, PC, or iPad.
Select the Get started link under the "Obtain a copy of your data" heading in Manage your data.
You can press 'Select All' to download everything or tick the boxes of the data categories you want to download. iCloud data are provided into a separate list as this data may be large and can take a long time to download.
Apple splits up the data into chunks, which ranges from 1 GB up to a maximum of 25 GB, letting you select your preferred maximum file size. Select a size and hit 'Continue.'
Your download is now in progress, and Apple will send you an email when the files are available to download, which can take up to a week. Your downloaded data is then automatically deleted after 2 weeks.
Here's the List of Data that You can Download:
App Store, iTunes Store, iBooks Store and Apple Music activity
Apple ID account and device information
Apple Online Store and Retail Store activity
AppleCare support history, repair requests and more
Game Center activity
iCloud Bookmarks and Reading List
iCloud Calendars and Reminders
iCloud Contacts
iCloud Notes
Maps Report an Issue
Marketing subscriptions, downloads, and other activity
Other data
iCloud Drive files and documents
iCloud Mail
iCloud Photos
Besides data download feature, Apple is also providing an option of permanently deleting all of your data, which has been made available globally starting today. Once you initiate the data delete option, the company can take up to 7 days to approve the request.
But keep in mind: Once deleted, there is no way you can retrieve your data.