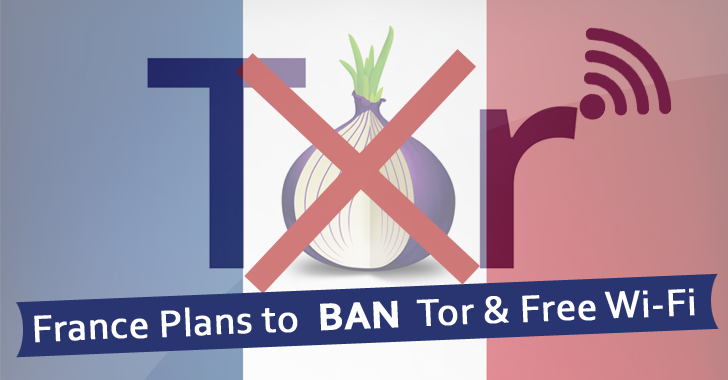 Now this was to be done, Sooner or Later – The Government.
In the wake of the recent deadly Paris terror attacks, the French government is considering new laws that would
Ban access to Free Wi-Fi and the Tor
anonymity network, according to a recent
report
by French newspaper Le Monde.
The report cites an internal document from the Ministry of Interior by French Department of Civil Liberties and Legal Affairs (DLPAJ) that lists two proposed bills – one around the State of Emergency and the other on combating counter-terrorism.
Now, the government has started renewing their assault on encryption and reviving their efforts to force tech companies to hand over encryption keys, and the document obtained by Le Monde hints the same.
Proposed Pieces of Legislation
State of Emergency Proposal: In this law, the French government is considering to Forbid the use of Free and Shared Wi-Fi connections during a state of emergency. Also, if the owners of public Wi-Fi networks did not disconnect, they could face criminal penalties.
According to the police, the reason behind restricting access to free or shared Wi-Fi is that it is apparently difficult to track suspects who use public Wi-Fi networks to communicate, so the law would shut down public Wi-Fi hotspots during a state of emergency.
The state of emergency increases the powers of the police in the country. During the state of emergency, French police may search residences without a warrant, tighten border controls, and even ban public protests.
Proposal for Combating Counter-Terrorism: This legislation proposal says the government is banning or blocking communications of the Tor network as well as requiring service providers to hand over encryption keys to police – not just during a state of emergency.
Indeed, in this section of the document, the Department of Civil Liberties and Legal Affairs questioned whether such proposed pieces of legislation might violate the French Constitution.
The Onion Router
, or TOR, is an anonymising network maintained by volunteers, which routes users' data requests globally, making it very hard (
but not impossible
) to discover the actual user behind the computer screen.
Tor is an easy tool to hide your real identity on the Internet and is used not only by journalists, whistleblowers, and privacy concerned people, but also by terrorists, pedophiles, and cyber criminals.
Both pieces of legislation, according to Le Monde, could appear as soon as January 2016.
If block, France would be the first European country to block TOR. Though there is no easy way to block the anonymising network, China and Iran have both made successful attempts to block TOR.