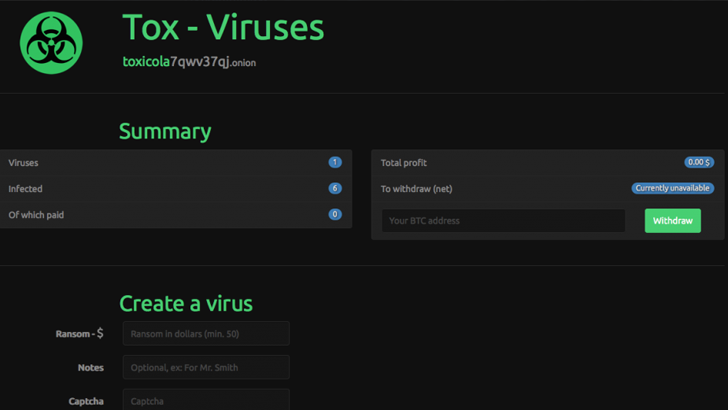 "
Ransomware
" threat is on the rise, but the bad news is that Ransomware campaigns are easier to run, and now a Ransomware kit is being offered by hackers for free for anyone to download and distribute the threat.
Ransomware is a type of computer virus that infects a target computer, encrypts their sensitive documents and files, and locks the out until the victim pays a ransom amount, most often in Bitcoins.
Sometimes even the best security experts aren't able to unlock them and end up paying off ransom to crooks in order to get their important files back.
Tox — Free Ransomware Kit
Now, to spread this creepy threat more easily by even a non-tech user, one dark web hacker has released a ransomware-as-a-service kit, dubbed "Tox," for anyone to download and set up their own ransomware for free.
Yes, believe it or not, but Tox is completely free to use. The developers of the online software make money by taking a cut (20%) of any successful ransomware campaigns its users run.
Tox, which runs on TOR, requires not much technical skills to use and is designed in such a way that almost anyone can easily deploy ransomware in three simple steps, according to security researchers at McAfee who discovered the kit.
How to Setup your Custom Ransomware?
It takes only a few seconds to create and set up your custom ransomware. Just create an account on the Tox website, without the need to provide your email address or any other identifying information.
Once a user register with the site, follow these three simple steps to creating your own malware:
Type a desired ransom amount you want to ask victims for.
Provide an additional note in the "Cause", presumably the message that will alert victims that they are being held hostage to a piece of malware.
Finally, you are prompted to fill out a captcha, and click "Create".
"This process creates an executable of about 2MB that is disguised as a .scr file," McAfee explains. "Then the Tox [users] distribute and install as they see fit. The Tox site (runs on the TOR network) will track the installs and profit. To withdraw funds, you need only supply a receiving Bitcoin address."
Your Ransomware is now Ready to infect People:
Your custom ransomware, designed to work on Windows systems, is now ready and available to download and spread.
Once downloaded, you can target people by sending your virus in an email attachments, just like in the style of traditional phishing emails.
Once a victim accidentally opens up the offending .scr file provided in an email, the payload will encrypt all of the data on their system and only decrypts if a Bitcoin payment is made.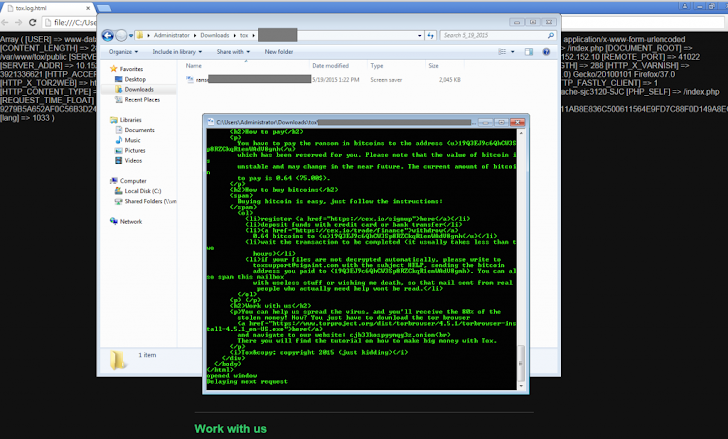 If target pays the ransom amount, the Bitcoin is then transferred to the user's Tox account from where
Tox takes a 20 percent cut,
and the rest can be withdrawn by the user.
Ransomware is a growing threat to the evolution of cyber criminals techniques, and many victims, including
local police departments
, do pay ransom to crooks in an attempt to get their important and personal files back.
How to Protect Yourself from Ransomware Threat?
However, there are some necessary steps that should be taken to protect yourself from Ransomware attacks.
Remember always to keep regular backups of your important data.
Make sure that you run an active anti-virus security suite of tools on your machine.
Do not open any email attachments from unknown sources.
Finally, browse the Internet safely.