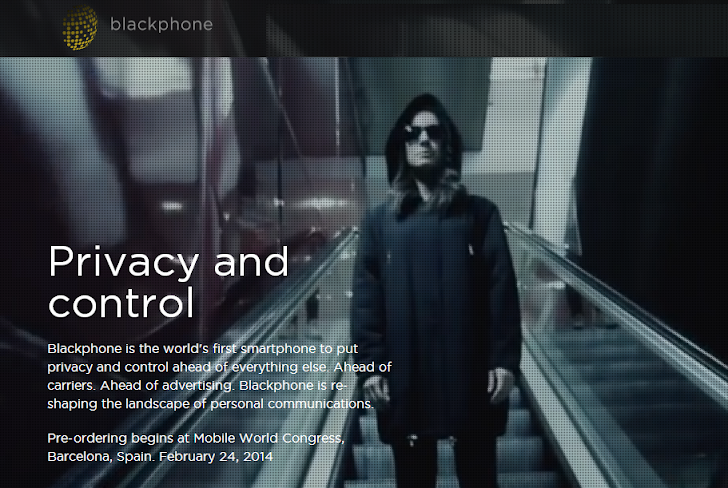 Mobile security may not be secure as you think. In September we have
reported
that the National Security Agency has the ability to access data on iOS, Android and even BlackBerry devices.
Everyday a new revelation of
NSA
Surveillance Program makes Security and Privacy a major concern for all of us. Today we feel the need of highly secured Networks and Encrypted Devices to safeguard our privacy from Cyber Criminals as well as Government.
Phil Zimmerman
, Inventor of the email encryption tool
PGP
and Silent Circle's Co-founder (company specializes in mobile privacy and peer-to-peer
encryption
) has announced '
BLACKPHONE
', a Smartphone that's been designed to enable secure, encrypted communications, private browsing and secure file-sharing.
The company will launch BLACKPHONE in the '
Mobile World Congress
', Spain next month, offers '
PrivatOS
', an
Android
based operating system which will allow users to make and receive secure phone calls, exchange secure texts, encrypted file storage, secure video chat, browse privately, and anonymize your activity through a VPN (virtual private network).
Phill Zimmermann said:
"I have spent my whole career working towards the launch of secure telephony products, Blackphone provides users with everything they need to ensure privacy and control of their communications, along with all the other high-end Smartphone features they have come to expect."
"Blackphone is unlocked and works with any GSM carrier. Performance benchmarks put it among the top performers from any manufacturer. It has the features necessary to do all the things you need, as well as all the things you want, while maintaining your privacy and security and giving you the freedom to choose your carrier, your apps, and your location. The tools installed on Blackphone give you everything you need to take ownership of your mobile presence and digital footprints, and ensure nobody else can watch you without your knowledge."
BLACKPHONE is not the first Smartphone that secures your communications with dedicated encryption technology, we have also seen
GSMK CryptoPhone
with similar features. But the best part is that company will make '
PrivatOS
' open source, so that anyone can verify its authenticity.
Just a few days back, The Inventor of JavaScript & current CTO of Mozilla,
Brendan Eich
also suggested to
trust only Open Source softwares
.
The
Silent Circle
had decided to shut down its secure e-mail service last year to prevent the NSA spying, and now the company is also working on a more secure service called
Dark Mail
.
These Blackphone will be available for pre-order from February 24, 2014, but pricing details aren't available at this time.