If you want to disable any ip address which use same router to connect internet. Now you can used your android application, WifiKill use as can disable internet connection for a device on the same network.
May be you ever use "
NetCut
" tool in your windows to eject any WiFi device from network with one click. NetCut have ability to scan the network for all connect devices with their MAC address and then with one click you can disconnect anyone from Network using ARP SPOOF attacks.
This application mostly used by students to save bandwidth in colleges or in any network where they want to disconnect all other users and use complete bandwidth for better speed or by some Network admins. But NETCUT comes for Windows only.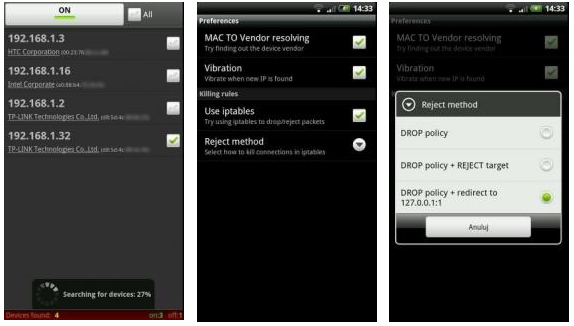 A Android application released called "
WiFiKill
v1.7
" , this is alternate version of NETCUT for Android. Simply allows you to scan your wifi network for devices, see their vendor and cut network connection for specified devices. This way you can get rid of network hoggers. It gives option to redirect HTTP traffic to specific IP, this feature can be used even to do phishing smartly.
You can
Download this application from The Hacker News - ToolsYard
Application works on rooted phones only. Demonstration of the WiFiKill application: