
Dec 10, 2010

Mohit Kumar
Dutch authorities said today that they have arrested a 16-year-old hacker involved in the pro-WikiLeaks attacks on the Web sites of MasterCard and PayPal.
The Dutch National Prosecutors Office
said
that the teen, who was not named, was arrested by a high-tech crime team last night.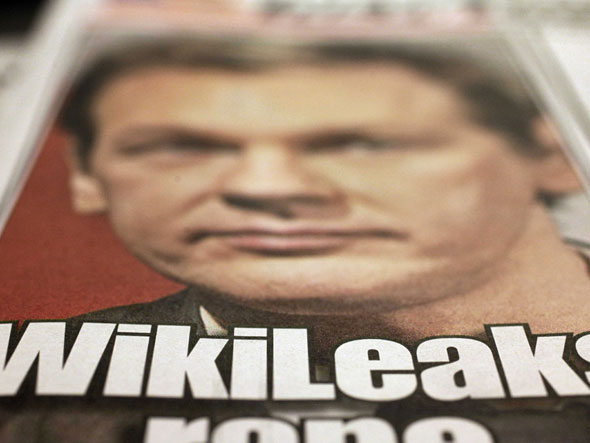 The arrest comes after a group known as Anonymous--a label that's been adopted before by activists who have electronically assaulted the Church of Scientology and the Australian government--organized attacks on Web sites of companies that have distanced themselves from WikiLeaks. Distributed denial-of-service attacks enlist thousands of computers, all making simultaneous connections, in hopes of overwhelming a target.
Visa.com was taken offline briefly yesterday afternoon, though the company told CNET that no payments or transactions were affected. MasterCard.com was unreachable yesterday morning. A Web site for the Swedish prosecution agency, which is trying to extradite WikiLeaks editor Julian Assange on sexual assault allegations, has been targeted too.
Amazon.com was attacked today, but unlike Anonymous' other victims, it has a massive server infrastructure that can bring additional capacity online instantly. That famously robust system proved able to fend off what's being called Operation Payback.
"We have changed our target--the Hive isn't big enough to attack Amazon," AnonOpsNet
announced
through Twitter. The new target: PayPal's Web-based system for processing payments.
It's unclear
how successful
those efforts were. A third-party monitoring service operated by WatchMouse.com
reports
that PayPal was experiencing significant problems in Japan, South Africa, and Germany, but not in the United States or most of Western Europe. The api.paypal.com Web site, however, was inaccessible from CNET's newsroom this afternoon.
Also today:
• Attorney General Eric Holder
says
the Feds are investigating the pro-WikiLeaks attacks. "We are aware of the incidents," Holder said in Washington today, Bloomberg reports. "We are looking into them." No word on whether the U.S. Department of Justice is looking into the attacks on WikiLeaks itself.
• An
article
in WalesOnline.co.uk says that alleged WikiLeaks source Bradley Manning, the former Welsh schoolboy who's now facing criminal charges, was barred from receiving visitors. "His family, including his mum Susan who suffers ill health after a series of strokes, is understood to have flown out from Wales to the U.S. to visit him. However, despite their trip, it is understood the request to visit the 23-year-old soldier, who is being held in solitary confinement, was turned down."
• In a very democratic fashion, Anonymous appears to be
holding a poll
to determine who should be attacked now. The U.S. Senate--that is, senate.gov--is currently in the lead.
• Russian autocrat Vladimir Putin
is taking up the cause
of WikiLeaks and Assange. "Why was Mr. Assange hidden in jail? Is that democracy? As we say in the village: the pot is calling the kettle black," Putin said.
• Edge.org has a
solid collection
of essays addressing these questions: "When does my right to privacy trump your need for security? Should a democratic government be allowed to practice secret diplomacy? Would we rather live in a world with guaranteed privacy or a world in which there are no secrets? If the answer is somewhere in between, how do we draw the line?"
• One reason why Anonymous' attack on Amazon.com didn't fare so well: The online retailer's "European datacenter, which formerly hosted the WikiLeaks Web site, accounts for more than a third of all Internet-facing Web servers in Ireland." That's from
Netcraft
.
• The American Conservative magazine
published
an article making the conservative case for WikiLeaks. Excerpt: "Conservatives should prefer an explosion of whistle-blower groups like WikiLeaks to a federal government powerful enough to take them down."
• Amazon.co.uk previously sold (for about 7 British pounds) a Kindle book titled "WikiLeaks documents expose US foreign policy conspiracies." The Web
page
is now offline, but here's
Google's cached version
.