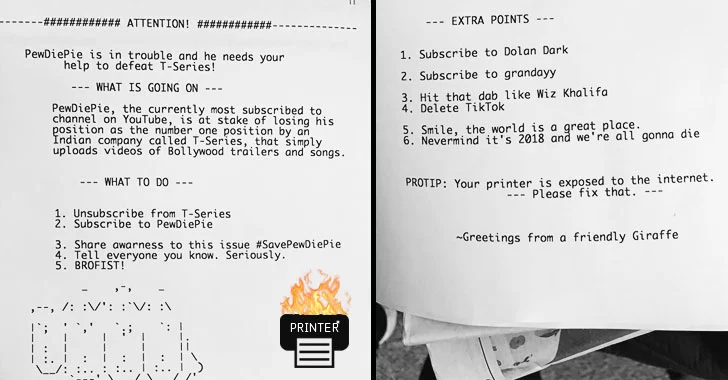 This may sound crazy, but it's true!
The war for "most-subscribed Youtube channel" crown between
T-Series
and
PewDiePie
just took an interesting turn after a hacker yesterday hijacked more than 50,000 internet-connected printers worldwide to print out flyers asking everyone to subscribe to PewDiePie YouTube channel.
PewDiePie, whose real name is Felix Kjellberg, is a famous YouTuber from Sweden known for his game commentary and pranks and has had the most subscribers on YouTube since 2013.
However, the channel owned by Bollywood record label T-Series has been catching up in recent months, and now both are hovering around 72.5 million YouTube subscribers.
From this fear that PewDiePie won't remain the number one most-subscribed YouTuber in the world, an anonymous hacker (probably his die-hard fan) with the Twitter username "
TheHackerGiraffe
" came up with a hackish idea.
TheHackerGiraffe scanned the Internet to find the list of vulnerable printers with port 9100 open using Shodan, a search engine for internet-connected devices and exploited them to spew out a message,
saying
:
"PewDiePie is in trouble, and he needs your help to defeat T-Series!"
"PewDiePie, the currently most subscribed to channel on YouTube, is at stake of losing his position as the number one position by an Indian company called T-Series that simply uploads videos of Bollywood trailers and campaigns,"
And then the message urged hack victims to unsubscribe from T-Series channel and subscribe to PewDiePie instead.
The hacker mainly uses an open-source hacking tool to exploit vulnerable printers, called
Printer Exploitation Toolkit (PRET)
, which has been designed for testing printers against various known vulnerabilities, allowing attackers to capture or manipulate print jobs.
Though it's a nice trick to raise cybersecurity awareness and consequences of leaving vulnerable printers exposed online, law and information security experts do not recommend other white hat hackers to participate in such stunts.
"Spread the word with your friends about printers and printer security! This is actually a scary matter," the hacker tweeted.
Believe it or not, even
your fax number is literally enough for hackers
to gain complete control over the printer and possibly infiltrate the rest of the network connected to it. Earlier this year we covered research explaining vulnerabilities discovered in the communication protocols used in tens of millions of fax machines globally.
Well, the gap between the two channels is narrowing, let's see if PewDiePie could win the crown of most-followed YouTube channel.