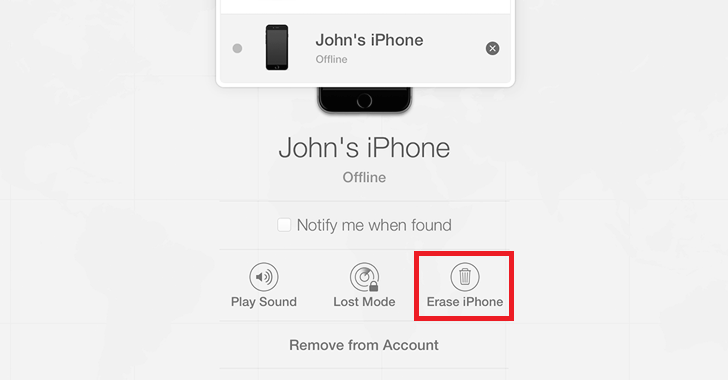 If you use iCloud to sync your Apple devices, your private data may be at risk of getting exposed or deleted by April 7th.
It has been found that a mischievous group of hackers
claiming
to have access to over 300 million iCloud accounts is threatening Apple to remotely wipe data from those millions of Apple devices unless Apple pays it $75,000 in crypto-currency or $100,000 worth of iTunes gift cards.
The hacking group, who identified themselves as 'Turkish Crime Family,' has demanded a ransom to be paid in Bitcoin or Ethereum, another popular crypto-currency.
Motherboard
broke
this story on Tuesday after a hacker claiming to represent the alleged hacking group shared screenshots of alleged emails between the group and Apple's security team with the publication.
"I just want my money and thought this would be an interesting report that a lot of Apple customers would be interested in reading and hearing," the hacker told Motherboard.
The screenshots of email exchange indicate that when Apple security team asked for a sample list of hacked account to verify the claims, the group only provided a YouTube video demonstrating access to one of the allegedly hacked accounts and remotely wiping all content from the device.
However, the story seems inconsistent, as on its Twitter account, the group
claims
to have access to 200 million iCloud accounts, while in one of the emails, it says to access 300 million Apple email accounts and in another, the number gets almost double to 559 million.
At this time, it is very difficult for even Apple to verify the claims. However, the company has warned the group saying that it does not reward cyber criminals for breaking the law and asking them to remove the video as it was "seeking unwanted attention."
The hacking group has given Apple a deadline until April 7 to pay up the ransom. Unless its demands are met, the group are going to start remotely wiping victim's Apple devices and reset iCloud accounts.
How to Protect Your iCloud Account From Hackers
Whether the claims and threat are real or not, but if hackers gain access to your iCloud account, they could easily download all your photos and other private data.
In order to keep your iCloud account safe from hackers, Apple users are advised to change their iCloud passwords immediately and
enable two-step authentication
to add an extra layer of security to your account.
Also Read:
Searching for Leaked Celebrity Photos? Don't Blindly Click Any Fappening Link!
We have already aware of the consequences iCloud accounts can make if they get hacked by malicious attackers. In 2014, iCloud hack led to
The Fappening
, wherein hackers flooded the Internet with nude photos of hundreds of female celebrities, which were stored in their iCloud accounts.
Some people are also linking the Turkish Crime Family to the recent
The Fappening 2.0
incident that leaked private photographs of many celebrities, including Emma Watson and Mc Rose, last week.
However, there is no evidence to suggest the blackmail attempt had anything to do with
The Fappening 2.0 attack
.