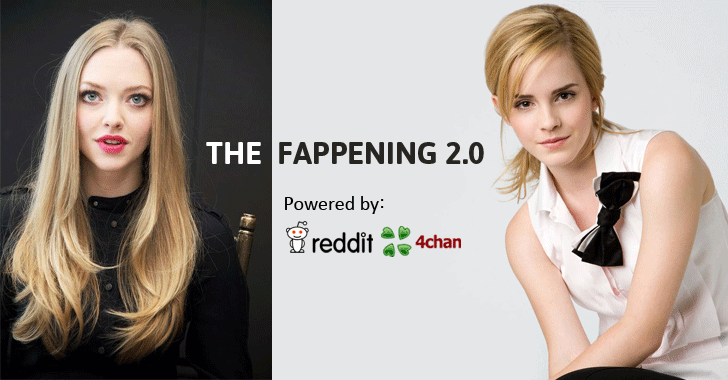 Are you clicking selfies? That is fine and not any criminal act, but this act can land you in trouble — here's how!
Almost three years after a wave of
private photographs of celebrities leaked
online, "The Fappening 2.0" appears to be underway with the circulation of alleged naked pictures of female celebrities, including Emma Watson and Amanda Seyfried on Reddit and 4chan.
Back in 2014, anonymous hackers flooded the Internet with private photographs of major celebrities, including
Jennifer Lawrence
,
Kim Kardashian
, Kate Upton and
Kirsten Dunst
by hacking thousands of
Apple's iCloud accounts
.
The
Fappening hackers
have since been
sent to prison
.
The Fappening 2.0: It's Happening Again!
However, in the latest leak, which has been heralded online as "The Fappening 2.0," the personal photographs of Amanda Seyfried and Emma Watson — ranging from regular selfies to explicitly sexual photos — have been leaking online since Tuesday night.
According to a screenshot from an original 4chan thread, unknown hackers will be posting more intimate photos of female celebrities, including Kylie Jenner, Marisa Tomei, Jennifer Lawrence and several others, over the next few days, which indicates it's just the beginning of The Fappening 2.0.
Also Read:
Hackers Threaten to Remotely Wipe 300 Million iPhones Unless Apple Pays Ransom
The affected celebrities did not immediately comment on the invasion of any privacy on their side, but the photographs appear to be authentic.
A representative for Watson has also confirmed that she is taking legal action against the latest leak and that some of the images circulating online are legitimate,
saying
:
"Photos from a clothes fitting Emma had with a stylist a couple of years ago have been stolen. They are not photographs. Lawyers have been instructed and we are not commenting further."
While, leaked images of Watson show the actor posing in various swimsuits and outfits in front of a mirror, the alleged photos of actors Amanda Seyfried and Jillian Murray are much more explicit, appearing to show the stars and, in some images, engaging in sexual activity.
There are also pictures and videos that the leaker claims to be of Watson filming herself naked in the bathtub, while another showing her masturbating. But since the face of the woman in the shots can not be seen, this can't be confirmed.
There is yet no information on the source of the leaks or how the personal photos of celebrities were obtained, but the anonymous hackers are claiming that these leaks are just the tip of an iceberg and they're about to release the next batch of celebrities to get their photos leaked.
The most famous celebrities in the list of next wave of private photographs of celebrities appear to be Marisa Tomei, Kylie Jenner, and Jennifer Lawrence.
How To Keep Your Private Photos Private
Do not click on any suspicious links or attachments in the email you received.
When in doubt, contact the sender to confirm that he or she actually sent the email to you or not.
Never provide your personal or financial information through an email to anyone.
No service, be it Google, Apple, or Microsoft, ever asks for your password or any other sensitive personal information over an email.
It's always a good idea to regularly update your passwords and security questions.
Enable two-factor authentication on your accounts and always choose a strong and different password for all your accounts. If you are unable to create and remember different passwords for each site, you can use a good password manager.