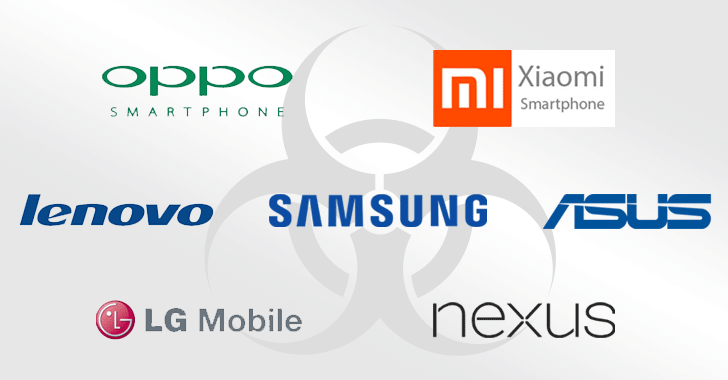 Bought a brand new Android Smartphone? Do not expect it to be a clean slate.
At least 36 high-end smartphone models belonging to popular manufacturing companies such as Samsung, LG, Xiaomi, Asus, Nexus, Oppo, and Lenovo, which are being distributed by two unidentified companies have been found pre-loaded with malware programs.
These malware infected devices were identified after a Check Point malware scan was performed on Android devices. Two malware families were detected on the infected devices: Loki and SLocker.
According to a
blog post
published Friday by Check Point researchers, these malicious software apps were not part of the official ROM firmware supplied by the smartphone manufacturers but were installed later somewhere along the supply chain, before the handsets arrived at the two companies from the manufacturer's factory.
First
seen
in February 2016,
Loki Trojan
inject devices right inside core Android operating system processes to gain powerful root privileges. The trojan also includes spyware-like features, such as grabbing the list of current applications, browser history, contact list, call history, and location data.
On the other hand,
SLocker
is a mobile ransomware that locks victims devices for ransom and communicates through Tor in order to hide the identity of its operators.
List of Popular Smartphones Infected with Malware
Here's the list of infected smartphones:
Galaxy Note 2
LG G4
Galaxy S7
Galaxy S4
Galaxy Note 4
Galaxy Note 5
Xiaomi Mi 4i
Galaxy A5
ZTE x500
Galaxy Note 3
Galaxy Note Edge
Galaxy Tab S2
Galaxy Tab 2
Oppo N3
Vivo X6 plus
Nexus 5
Nexus 5X
Asus Zenfone 2
LenovoS90
OppoR7 plus
Xiaomi Redmi
Lenovo A850
The malware backdoor offers its operator unrestricted access to these infected devices, from downloading, installing and activating Android malicious apps, deleting user data, uninstalling security software and disabling system apps, to dialing premium phone numbers.
This incident underscores the dangers of untrusted supply chains, and experts are quite worried about the security of the supply chain with reports of over 20 incidents where rogue retailers have managed to pre-install malware on new Android handsets.
Here's How to Remove the Malware Infections:
Since the malware programs were installed to the device's ROM using system privileges, it's hard to get rid of the infections.
To remove the malware from the infected devices, either you can root your device and uninstall the malware apps easily, or you would need to completely reinstall the phone firmware/ROM via a process called "Flashing."
Flashing is a complex process, and it is recommended that users power off their device and approach a certified technician/mobile service provider.
It's not the first time when high-end smartphones have been shipped pre-installed with malicious apps that can covertly siphon sensitive user data.
In December last year, certain low-cost Android smartphones and tablets were found to be
shipped with malicious firmware
that covertly gathered data about the infected devices, displays ads on top of running apps and downloads unwanted APKs on the victim's devices.
In November, researchers
discovered a hidden backdoor
in the AdUps firmware of over 700 Million Android smartphones, which also covertly gathered data on phone owners and sent it to a Chinese server without the user's knowledge.
Meanwhile, a
flaw in the Ragentek firmware
used by certain low-cost Android devices was also discovered that allowed attackers to remotely execute malicious code with root privileges, turning over full control of the devices to hackers.