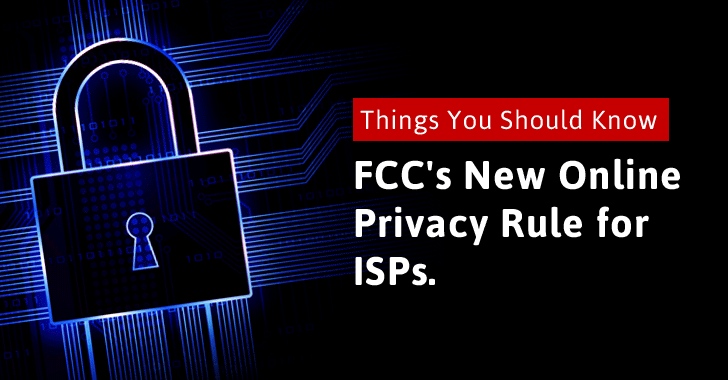 Good News for privacy concerned people! Now, your online data will not be marketed for business; at least by your Internet Service Providers (ISPs).
Yes, it's time for your ISPs to ask your permission in order to share your sensitive data for marketing or advertisement purposes, the FCC rules.
On Thursday, the United States Federal Communications Commission (FCC) has imposed
new privacy rules
on Internet Service Providers (ISPs) that restrict them from sharing your online history with third parties without your consent.
In a 3-2 vote, the FCC approved the new rules by which many privacy advocates seem pleased, while some of them wanted the Commission to even apply the same rules to web-based services like Google and Facebook as well.
Initially proposed earlier this year, the
new rule says
:
"ISPs are required to obtain affirmative 'opt-in' consent from consumers to use and share sensitive information."
What does 'sensitive' information mean here? The rule lists the following:
Your precise geo-location
Your children's information
Information about your health
Your financial data
Social Security Numbers (SNNs)
Your Web browsing history
App usage history
The content of your communication
Note:
Your broadband provider can use and share this information if you give them explicit permission. So, you need to watch out for those invites and gently worded dialog boxes.
What's non-sensitive is information like your email address, service tier, IP address, bandwidth used and other information along those lines, but you can still officially opt-out.
The new rule also requires Internet providers to tell customers with
"clear, conspicuous and persistent notice"
about the information they are collecting on them and how/when they share it, and the
"types of entities"
they share it with.
The ISPs even need to notify its customers in the event of a data breach.
The FCC aims to provide consumers an increased choice, transparency, and security online over their personal information. Here's what the Commission writes:
"ISPs serve as a consumer's "on-ramp" to the Internet. Providers have the ability to see a tremendous amount of their customers' personal information that passes over that Internet connection, including their browsing habits. Consumers deserve the right to decide how that information is used and shared — and to protect their privacy and their children's privacy online."
Meanwhile, the advertisers are, of course, not at all happy with the FCC's move. The Association of National Advertisers called the new rules
"unprecedented, misguided and extremely harmful,"
saying the move is bad for consumers as well as the U.S. economy.
However, ISPs have a year to comply with the new rules. So, it won't go into effect for at least a year.