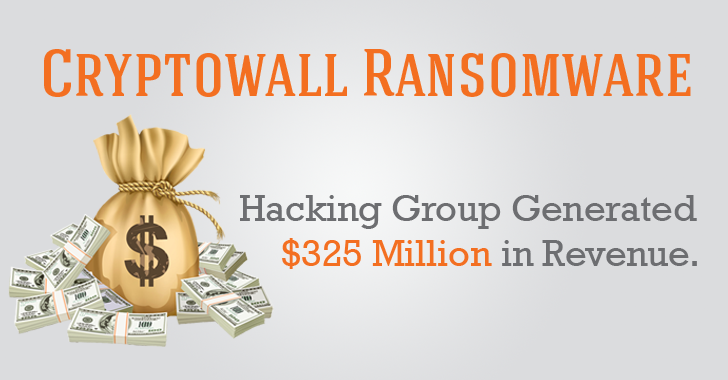 The Creators of the notorious CryptoWall ransomware virus have managed to raise more than $325 million (£212 million) in this past year alone.
Ransomware has emerged as one of the biggest cyber threats to web users in recent times.
Typically, hackers primarily gain access to a user's computer system using a ransomware malware, which encrypts all files with a strong cryptographic algorithm, and demand a ransom money to be paid in Bitcoin, typically between $200 and $10,000.
In June 2014, researchers first discovered the CryptoWall ransomware attack, and currently, the latest
CryptoWall version 3.0 (CW3)
is the most sophisticated and complex family of this malware backed by a very robust back-end infrastructure.
According to the latest
report
(
pdf
) published by
Cyber Threat Alliance (CTA)
, an industry group formed last year to study emerging threats, researchers have discovered:
406,887 CryptoWall infection attempts
Total of 4,046 malware samples
839 command-and-control server URLs to send commands and receive data
5 second-tier IP addresses
49 different CryptoWall distribution campaigns
Out of 49, a single campaign, dubbed as "crypt100", infected as many as 15,000 computers worldwide
cybercriminals behind the ransomware are likely to a singular group due to several similarities
Same hacker group generated more than $18 Million in the past year alone from previous versions of CryptoWall.
According to the report, this single cybercriminal ring has generated as much as $325 million from the money paid by hundreds of thousands of CryptoWall 3.0 victims around the world to get their encrypted files unlocked.
Also Read:
FBI Offers $3 Million Reward For Arrest Of Russian Hacker behind CryptoLocker Ransomware.
"When looking at the number of victims providing payment for the Cryptowall 3.0 ransomware, it becomes clear that this business model is extremely successful and continues to provide significant income for this group," report said.
The Ransomware lands on PCs the same way other malware does.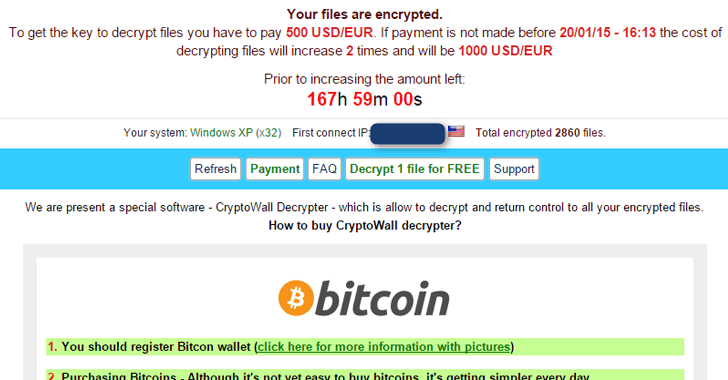 CryptoWall 3.0 is being primarily distributed through exploit kits and phishing emails, with infected attachments or that contain links to malicious websites.
Currently, there is no option to crack or decrypt the files without the CryptoWall decryption key, so the only option is to accept the loss of files or pay the ransom money.
The best defense is to ensure that files are regularly backed up in such a way that it can't be reached by the attackers.
Use Antivirus software and Firewalls from reputable companies,
Avoid Opening Emails and attachments from unknown sources,
and always keep your operating system and software up-to-date.