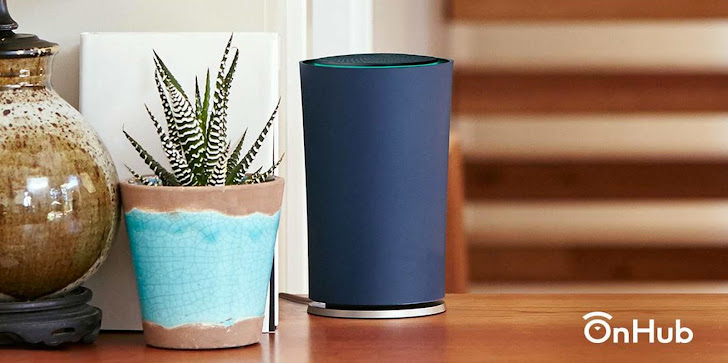 Don't stare at the screen for too long for the buffering to end, Google has a solution!
It seems like Google is buckling up to carve out a niche in the market of wireless smart network devices.
"OnHub a new way to Wi-Fi" as Google says is a speedy, secure, easy to use and a reliable Wi-Fi with a stylish look is all in a package the company can offer.
Key Highlights of OnHub
OnHub looks different from other routers in many unique ways, which are as follows:
OnHub is cylindrical in shape
It has Congestion Sensing Antennas
It provides support for connecting up to 128 Devices at a time
It Speaks your Language
OnHub contains High-Performance Antennas hidden inside the Router Shell
It has Minimal wires and cables to look tidier
It does not blink lights, only mild lighting in the outer ring of the router
OnHub does Bandwidth Management
It can be managed from your Smartphone App
It has Storage Space of 4GB that makes it easy for auto updates
OnHub is being manufactured by network company called TP-LINK, Google said, hinting that ASUS could be the second manufacturing partner for the product.
When and From Where do I get OnHub?
OnHub
is available for
$199.99 on pre-order
from online retailers in the United States, including the Google Store, Amazon, and Walmart.com.
Those who wish to purchase from the retail stores in U.S. and Canada have to wait till OnHub reaches the shops, which is expected to be possible in coming weeks.
OnHub inbuilt with Smart Protocols
OnHub allows you to connect your laptop or tablet and is designed to support "the Internet of Things" as well as other smart devices over time because it is inbuilt with the smart protocols:
Bluetooth® Smart Ready
802.15.4
Weave
Fast Wi-Fi for Everyone
In terms of speed, OnHub uses the airwaves and selects the best channel for the fastest connection. The device offers Wi-Fi at a speed of up to 1900 Mbps by supporting 2.4GHz as well as 5GHz frequencies, meaning fast Wi-Fi for everyone.
You can even manage the bandwidth by prioritizing a device, which will get the fastest speed in doing its operations.
Google On – OnHub Mobile App
OnHub is smarter in a manner where it comes with a mobile app that can manage all your activities. It is called the Google On app, available on Android and iOS.
Google On app lets you know how much bandwidth your device is using and allows you to run a network check. So if there is an issue with your Wi-Fi, the On app offers suggestions to help.
"A unique antenna design and smart software keep working in the background, automatically adjusting OnHub to avoid interference and keep your network at peak performance,"

said

Trond Wuellner, Group Product Manager, Google.
The global market for "Internet of Things", will nearly triple to $1.7 Trillion by the year 2020, International Data Corp said in June. Therefore, we can say...
...This is Definitely the next big thing you should vouch for!
This is not smart, but smarter Wi-Fi router Google has to offer. A brief display of how it could get comfortable in your lives can be seen in the
video
.