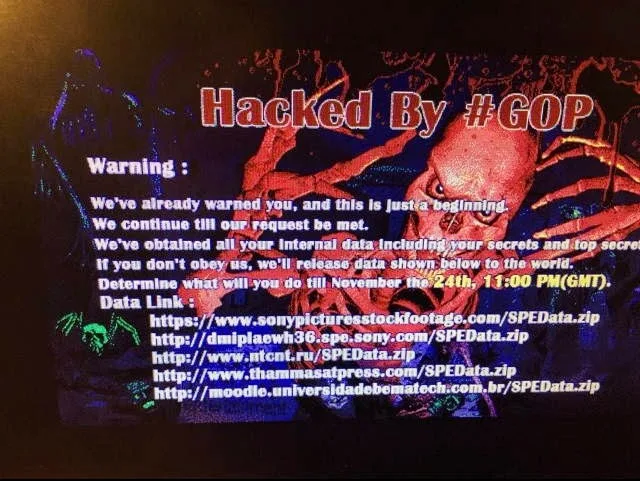 It's a bad day for Sony yesterday!! Sony appears to be hacked once again by hackers, but this time not its
PlayStation
, instead its
Sony Pictures Entertainment
– the company's motion picture, television production and distribution unit.
According to multiple reports, the corporate computers of Sony Picture employees in New York and around the world were infiltrated by a hacker, displaying a weird skeleton, a series of URL addresses, and a threatening message that reads:
"Hacked By #GOP Warning: We've already warned you, and this is just a beginning. We continue till our request be met. We've obtained all your internal data, including your secrets and top secrets. If you don't obey us, we'll release data shown below to the world. Determine what will you do till November the 24th, 11:00 PM (GMT)."
News broke after a user, who claimed to be a former Sony staff, posted allegations of the security breach with the defacement image on
Reddit
.
Hackers group that identifies itself as #GOP (Guardians of Peace) claimed responsibility for the defacement across staff computers at Sony Pictures, and apparently stolen reams of internal corporate data as well.
Some reports also claims that the group also gained access to dozens of the company's Twitter accounts linked to movies such as Stomp The Yard, Soul Surfer, and Starship Troopers, but the company has since regained control of those.
A source within Sony has anonymously confirmed to
TNW
that the hack and the defacement image that have appeared on Staff computers inside Sony Pictures is real. They said that
"a single server was compromised and the attack was spread from there."
The group leaked a large ZIP file containing a list of filenames of a number of documents pertaining to Sony Pictures financial records along with private keys and passwords for access to servers. There is even a text file that contains the list of last 10 recently used passwords for something at Sony.
The defacement message shown on staff computers mentions "demands" that must be met by November 24th at 11:00PM GMT or the files named will be released.
While the motives behind the hack are still unclear, but the group says it will expose more details to the public if what appeared to be a reference to demands quietly sent to the company earlier were not fulfilled by them.
According to Variety, Sony Pictures information-technology departments have instructed employees to turn off their computers as well as disable Wi-Fi on all mobile devices. Sony Pictures hasn't confirmed the intrusion yet, instead saying it was investigating
"an IT matter"
in a
statement
.