We use our Smartphone devices to do almost everything, from Internet Banking to Sharing private files and at the same pace, the mobile malware sector is also growing.
The number of variants of malicious software aimed at mobile devices has reportedly risen about 185% in less than a year.
Security researchers have observed a growth in the numbers of computer
malware
families starting to use TOR-based communications, but recently the Security Researchers at anti-virus firm
Kaspersky Lab
have
spotted
the world's first
Tor-Based Malware for Android
Operating system.
The

Android

Malware dubbed as '

Backdoor.

AndroidOS

.Torec.a

', using Tor hidden service protocol for stealth communication with Command-and-Control servers.

Researchers detected that the Trojan is running from

.Onion Tor

domain and working on the functionality of an open source Tor client for Android mobile devices, called '

Orbot

', thus eliminating the threat of the

botnet

being detected and blocked by law enforcement authorities, although often it's not clear how many devices has been infected by this malware till now.

The Trojan is capable of
intercepting and stealing incoming SMS, can
make USSD requests, stealing device
information including '
the phone number, country, IMEI, model, version of OS', can
retrieve
the list of installed applications on the mobile device, and also can send
SMSs to a specified number.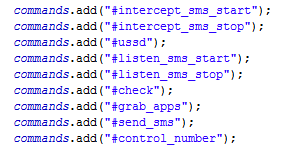 Kaspersky didn't mention particularly that the malware is focused on stealing banking information or not, but the popularity of Android OS is kept motivating cyber criminals to develop far more advanced Android malware with more stealthy and anti-reverse methods.
Here are some things you can do to dramatically reduce the risk of malware infections on your Android phone:
Install apps from official Android Market instead of third-party app stores or websites.
Before installing any apps, check the publisher and app reviews.
Pay attention to app permissions during the installation.
Install Antivirus and Firewall apps.