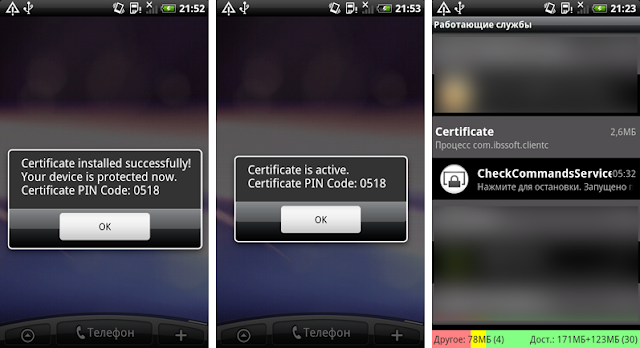 A new type of
Android malware
that can intercept text messages and forwarding to hackers is discovered by the Russian firm
Doctor Web
. This is a very serious threat to users, because using this
malware
attackers can easily get two factor authentication code of your Email or bank accounts.
The malware, dubbed as Android.Pincer.2.origin, is the second form of the original Android.Pincer malware and is distributed as security certificates that the user must install.
Upon launching Android.Pincer.2.origin, the user will see a fake notification about the certificate's successful installation but after that, the Trojan will not perform any noticeable activities for a while.
Android.Pincer.2.origin
connects to a server and send text messages in addition to the other information as the
smartphone
model, serial, IMEI and phone number and the Android version is used.
To malware then receive instructions from commands in the following format:
start_sms_forwarding [telephone number] - begin intercepting communications from a specified number
stop_sms_forwarding - stop intercepting messages
send_sms [phone number and text] - send a short message using the specified parameters
simple_execute_ussd - send a USSD message
stop_program - stop working
show_message - display a message on the screen of the mobile device
set_urls - change the address of the control server
ping - send an SMS containing the text 'pong' to a previously specified number
set_sms_number - change the number to which messages containing the text string 'pong' are sent.
The command start_sms_forwarding is of particular interest since it allows attackers to indicate the number from which the Trojan needs to intercept messages. This feature enables criminals to use the Trojan for targeted attacks and steal specific messages.