The United Kingdom Ministry of Defence website (www.qhm.mod.uk) hacked by two Null Hacking Crew members
@OfficialNull
and
@Timoxeline
and They extracted data
published online
. The data dump include 3400 email addresses and passwords from Ministry of Defence portal.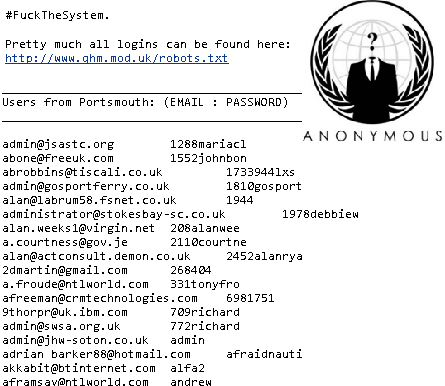 Hackers trying to trend
#FuckTheSystem
hashtag on twitter and related it to all their hacks against UK government. Hacker wrote on note : "
Your webmaster made a terrible mistake... You may criticize us on the simplicity of the vulnerability. But if you can get so much useful data so easily, why wouldn't you? "
"We hope that all governments and organizations realize that #FuckTheSystem is definitely not a joke. We hope that you have the decency to grasp the concept of it. But hey... You're the government right... Just some butthurt little fags. This security just proves how much of a joke our governments are." note continue.
Hackers mention that, they hack the website using SQL Injection method, where attack consists of insertion or injection of a SQL query via the input data from the client to the application. Not only this, Government website saving passwords in plain text and Hacker found all login area via Robots.txt file.
Hackers
threatened
to hack "
U.S Department of Homeland Security
" next and I'm dead sure they already perform the hack before announcement and now waiting for right time to push stuff online.