A popular WordPress theme plugin with over 200,000 active installations contains a severe but easy-to-exploit software vulnerability that, if left unpatched, could let unauthenticated remote attackers compromise a wide range of websites and blogs.
The vulnerable plugin in question is '
ThemeGrill Demo Importer
' that comes with free as well as premium themes sold by the software development company ThemeGrill.
ThemeGrill Demo Importer plugin has been designed to allow WordPress site admins to import demo content, widgets, and settings from ThemeGrill, making it easier for them to quickly customize the theme.
According to a
report
WebARX security company shared with The Hacker News, when a ThemeGrill theme is installed and activated, the affected plugin executes some functions with administrative privileges without checking whether the user running the code is authenticated and is an admin.
The flaw could eventually allow unauthenticated remote attackers to wipe the entire database of targeted websites to its default state, after which they will also be automatically logged in as an administrator, allowing them to take complete control over the sites.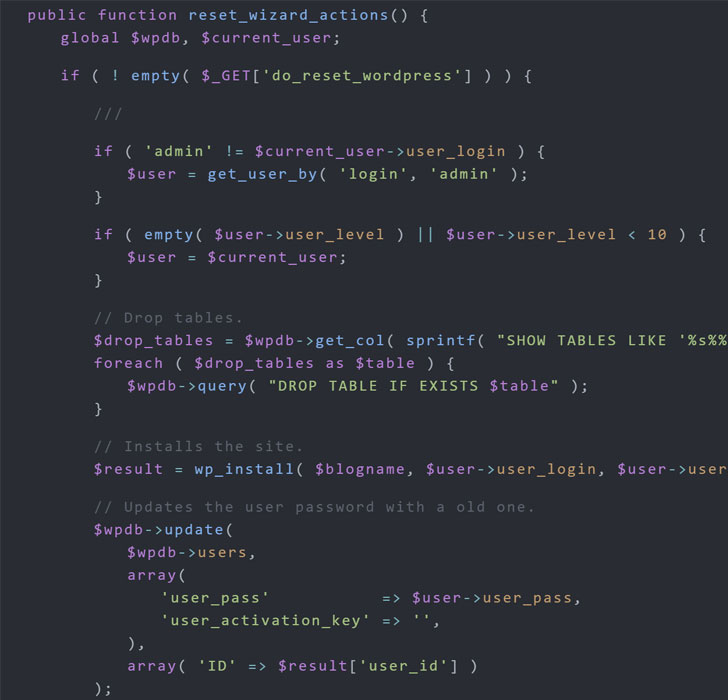 "Here we see (in the screenshot) that there is no authentication check, and only the do_reset_wordpress parameter needs to be present in the URL on any 'admin' based page of WordPress, including /wp-admin/admin-ajax.php."
According to the WebARX researchers, the vulnerability affects
ThemeGrill Demo Importer
plugin version 1.3.4 up to 1.6.1, all released in the last 3 years.
UPCOMING WEBINAR
Zero Trust + Deception: Learn How to Outsmart Attackers!
Discover how Deception can detect advanced threats, stop lateral movement, and enhance your Zero Trust strategy. Join our insightful webinar!
Save My Seat!
"This is a serious vulnerability and can cause a significant amount of damage. Since it requires no suspicious-looking payload, it is not expected for any firewall to block this by default, and a special rule needs to be created to block this vulnerability," the WebARX researchers said.
WebARX, which provides vulnerability detection and virtual patching software to protect websites from the third-party component vulnerabilities. responsibly reported this vulnerability to ThemeGrill developers two weeks ago, who then released a patched version 1.6.2 on February 16.
WordPress Dashboard automatically notifies admins when a plugin needs to be updated, but you can also choose to have plugin updates automatically installed instead of waiting for manual action.