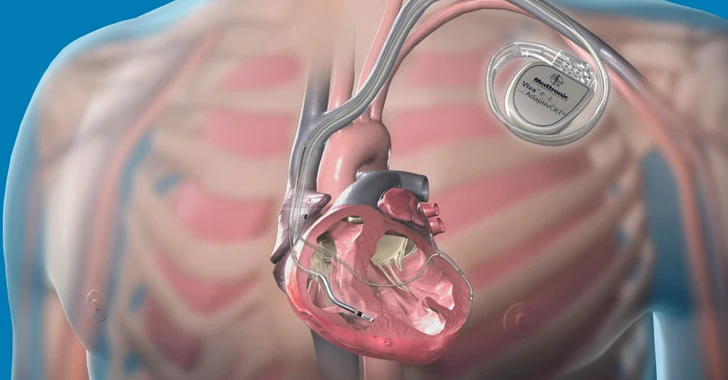 The U.S. Department of Homeland Security Thursday issued an advisory warning people of severe vulnerabilities in over a dozen heart defibrillators that could allow attackers to fully hijack them remotely, potentially putting lives of millions of patients at risk.
Cardioverter Defibrillator is a small surgically implanted device (in patients' chests) that gives a patient's heart an electric shock (often called a countershock) to re-establish a normal heartbeat.
While the device has been designed to prevent sudden death, several implanted cardiac defibrillators made by one of the world's largest medical device companies
Medtronic
have been found vulnerable to two serious vulnerabilities.
Discovered by researchers from security firm Clever Security, the vulnerabilities could allow threat actors with knowledge of medical devices to intercept and potentially impact the functionality of these life-saving devices.
"Successful exploitation of these vulnerabilities may allow an attacker with adjacent short-range access to one of the affected products to interfere with, generate, modify, or intercept the radio frequency (RF) communication of the Medtronic proprietary Conexus telemetry system, potentially impacting product functionality and/or allowing access to transmitted sensitive data," warns the advisory released by DHS.
The vulnerabilities reside in the Conexus Radio Frequency Telemetry Protocol—a wireless communication system used by some of Medtronic defibrillators and their control units to wirelessly connect to implanted devices over the air using radio-waves.
Flaw 1: Lack of Authentication in Medtronic's Implantable Defibrillators
According to an advisory [
PDF
] published by Medtronic, these flaws affect more than 20 products, 16 of which are implantable defibrillators and rest are the defibrillators' bedside monitors and programmers.
The more critical flaw of the two is CVE-2019-6538 which occurs because the Conexus telemetry protocol does not include any checks for data tampering, nor performs any form of authentication or authorization.
The successful exploitation of this vulnerability could allow an attacker within the radio range of the affected device and right radio gear to intercept, spoof, or modify data transmitting between the device and its controller, which could potentially harm or perhaps even kill the patient.
"This communication protocol provides the ability to read and write memory values to affected implanted cardiac devices; therefore, an attacker could exploit this communication protocol to change memory in the implanted cardiac device," the DHS says.
Flaw 2: Lack of Encryption in Medtronic's Implantable Defibrillators
The Conexus telemetry protocol also provides no encryption to secure the telemetry communications, making it possible for attackers within the range to eavesdrop on the communication. This issue has been assigned CVE-2019-6540.
However, Medtronic said the vulnerabilities would be hard to take advantage of and harm patients since it requires the following conditions to be met:
An unauthorized individual would need to be in close proximity of up to 6 meters (20 feet) to the targeted device or clinic programmer.
Conexus telemetry must be activated by a healthcare professional who is in the same room as the patient.
Outside of the hospital activation times of devices are limited, which vary patient to patient and are difficult to be predicted by an unauthorized user.
The medical technology giant also assures its users that "neither a cyberattack nor patient harm has been observed or associated with these vulnerabilities" to this date.
Medtronic also noted that its line of implanted pacemakers, including those with Bluetooth wireless functionality, as well as its CareLink Express monitors and CareLink Encore programmers (Model 29901) used by some hospitals and clinics are not vulnerable to either of these flaws.
Medtronic has already applied additional controls for monitoring and responding to the abuse of the Conexus protocol by the affected implanted cardiac devices and is working on a fix to address the reported vulnerabilities.
The security fix will soon become available, and in the meantime, Medtronic urged "patients and physicians continue to use these devices as prescribed and intended."