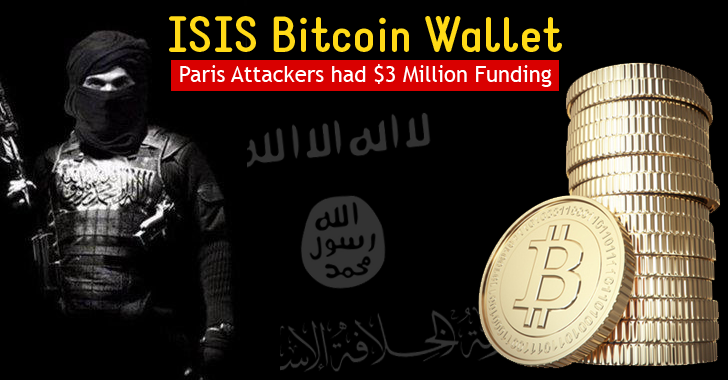 The world watched in horror as coordinate attacks in Paris Friday night killed more than 130 people and left over 352 injured.
The attacks were carried out by Islamic State (ISIS), who later claimed responsibility for targeting innocent people at 'soft' locations that lack police or military protection, including Bataclan concert venue where at least 89 people lost their lives.
But the Question here is:
From Where did the terrorist cell that planned the brutal terrorist attacks in Paris get Fundings?
The Anti-terrorism group of ethical hackers,
Ghost Security Group (GSG)
, said that ISIS regularly uses cryptocurrencies to fund its terrorist operations.
"
The Islamic State does use cryptocurrencies as a form of income to fund their ongoing operations, and we have managed to uncover several Bitcoin addresses used by them,
" a member of Ghost Security Group
said in an interview
with NewsBTC.
"We had discovered a BtC address linked to a known Islamic State deep website approximately three months ago and provided it to dw.com. They hired a team of blockchain analysts to trace the cryptocurrency to the estimated 3 million in BtC the discovered."
Although there are no actual proofs that cryptocurrencies were used to support the terrorist attacks in Paris, GSG claimed…
Putin: ISIS Financed by 40 Countries, Including G20 Member States
Putin also calls out Obama for arming and training Fighters for ISIS, saying U.S.-trained rebels were leaving to join ISIS with weapons supplied by Washington.
"In my opinion, provision of military support to illegal structures runs counter to the principles of modern international law and the United Nations Charter," Putin told reporters.