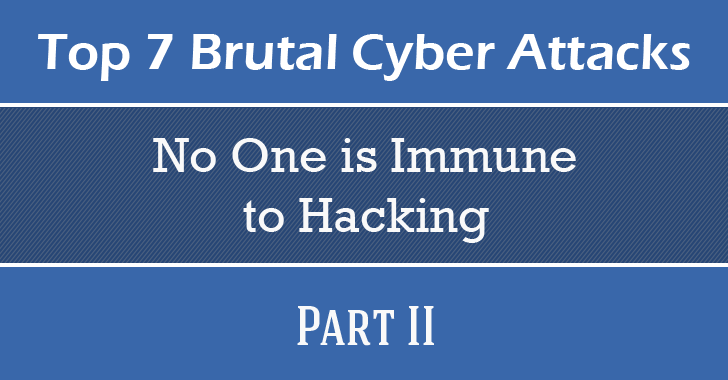 In
Part I
of this
two-part series from The Hacker News
, the
First Four list of Top Brutal Cyber Attacks
shows that whoever you are, Security can never be perfect.
As attackers employ innovative hacking techniques and zero-day exploits, the demand for increased threat protection grows.
In this article, I have listed another three cyber attacks, as following:
#5 Car Hacking
Driving a car is a network's game now!
General Motors' OnStar application and cars like Jeep Cherokee, Cadillac Escalade, Toyota Prius, Dodge Viper, Audi A8 and many more come equipped with more advanced technology features.
The OnStar application is an inbuilt unit attached to the interior, rearview mirror of the car with features such as remotely unlocking cars and starting the engines.
Similarly, Jeep manufactured Jeep Cherokee's latest model is the fourth generation car fully equipped with the latest technology advancements.
In the recent incidents, Jeep Cherokee, as well as OnStar's application, were hacked leaving the cars as the slaves of the hackers and prone to accidents.
A security flaw in the car's entertainment system was compromised by two white hat hackers: Charlie Miller and Chris Valasek. The flaw allowed the hackers to
inject malware into the system
for remote control from miles away.
The hackers were able to turn up the music volume to the maximum and start the windshield wipers remotely while they were '10 miles away'.
An outrageous act they did was cutting off the transmission and disconnected the brakes that led the car crash into a ditch.
Reports say that both Jeep Cherokee and Escalade have an inherent security flaw. This is such:
The cars' apps, Bluetooth and telematics connecting the car to a cellular network like OnStar are on the same network as the engine controls, brakes, steerings and tire pressure monitor system.
Miller and Valasek said a car's networked system could be an easy gateway for the hackers to come in with just the use of their mobile phones and a laptop.
What they need to do is just know the car's IP address, and they can break into its system through a wireless internet connection.
#6 Data Breach at US Government Office of Personnel Management
United States Office of Personnel Management (US OPM) is an independent agency of the United States that works to recruit, retain and honor a world-class workforce for the American people.
Hackers accessed sensitive data of US government officials that could be used for identity theft and cyber-espionage.
The stolen data included
Social Security Numbers, employment history, residency and educational history, criminal and financial history, fingerprints, information about health, personal and business acquaintances
.
Some stolen records also include findings from interviews conducted by background investigators that discussed sexual assaults and drug, mental health treatments and alcohol addictions.
#7 Anthem Data Breach
Anthem Insurance Inc., previously known as WellPoint Inc, was a victim of a massive cyber attack in February.
Back in February, Cyber attackers executed a very sophisticated attack to gain unauthorized access to the company's IT systems that had database of some 80 million people and obtained
personal identifiable information (PII)
relating to its consumers and employees.
The information accessed included:
Names,
Birthdays,
Social security numbers,
Email addresses
Employment information, including income data
The path may have been "
Phishing
", in which a fraudulent e-mail could have been used to trick employees into revealing their network ID and password, or into unknowingly downloading software code that gives the hackers long-term access to Anthem's IT environment.
The company informed millions of its affected customers of the massive data breach that potentially exposed the personal information of its former as well as current customers.
Anthem appointed Mandiant, world's leading cyber security organization, to evaluate the scenario and provide necessary solutions.


This is just the beginning...

These are just seven; there are many more! And it could reach you too.

The power of the cyberspace and the criminals hovering over it should not be underrated.

Chucking such happenings where your personal data is at risk and being irrational is not the solution rather it is the beginning of activities that will bother you big time in the future.

The cyberspace is like a dope that is capable of psychoactive effects. A proactive thinking and approach will take you ahead of the people on the other end.

Take the time to ponder over the incidents and respond wisely is all we have to say!