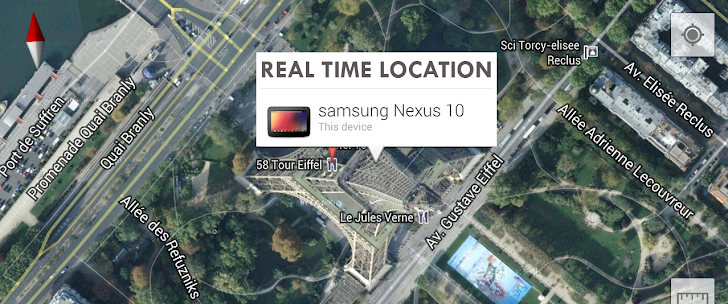 A team of Researchers at
Rutgers University
has
developed
an Android application which will notify you every time, whenever an app installed on your Smartphone accesses the GPS functionality.
Smartphone is a multipurpose device, having features of both a mobile phone and a computer, allowing us to talk, text, access personal and official e-mail, browse the Internet, make purchases, manage bank accounts, and take pictures.
Smartphone also help you to find the way to your destination using
GPS
(Global Positioning System) technology. Unlike many of our computers, our Smartphones are always with us and many of us rarely turn them off, that means your Smartphone even can be abused to track your real time location on the map.
There are many legitimate applications which need your location in order to function properly and to enhance the app features, for example- Zomato app can give the list of all restaurants near you, WeChat like social messaging apps allows you to get the list of all users available near your location for chatting and dating and Facebook gives you a check-in facility so that you can share a place you are visiting.
Who would be interested in knowing your location? Parents, Companies, advertisers, cyber-criminals and in some situations, federal agencies. For an app with GPS location permission, it is very easy to locate your real time location and transmit the Latitude-Longitude data periodically to the app-maker.
It is already known to us that any application which has permission of accessing the location service can capture the device GPS location anytime in the background, without user interaction.
The Security app developed by the researchers will flash a notification message on the device screen that "Your location is being accessed by [app name]", as shown:

They have used a method called,'Heuristic Discovery of Location Access' which will calculate changes in the value of 'getLastKnownLocation' variable by any GPS enabled app to detect them.
"As it turns out, there is no obvious way for a normal Android app to monitor whether other apps are accessing location. However, we discovered we could exploit the method getLastKnownLocation available in the Android Location API for this purpose as an effective side channel."
But at this point, it is not clear that how much this app is accuratly able to catch the 'Location accessing' apps and the method they have mentioned could be limited to the foreground applications (the apps with a user is interacting at that time) only, rather than detecting apps while accessing your location silently in the background.
According to a study, 74% of Smartphone users use a location based service like Facebook, Whataspp, Snapchat etc. Such Security applications with detection features are the demand of time so that users can keep an eye on each and every event to protect their privacy. The app should be available on Google Play within the next two months.