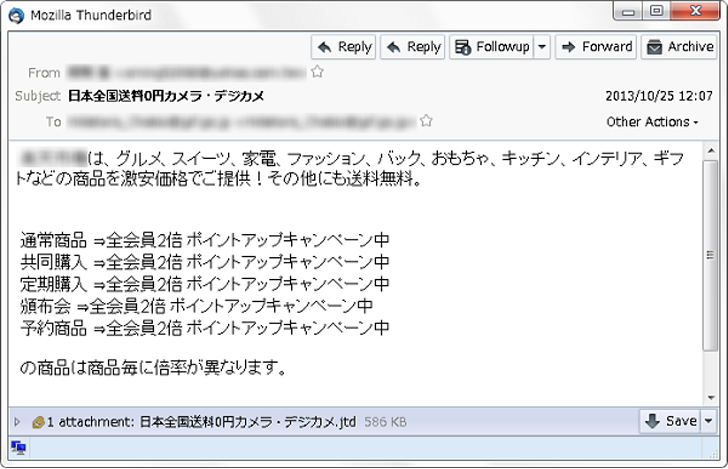 Japanese most popular word processing software '
Ichitaro
' and Multiple Products are vulnerable to a
zero day
Remote Code Execution
Flaw Vulnerability, allowing the execution of arbitrary code to compromise a user's system.
According to assigned CVE-2013-5990, malicious attacker is able to gain system access and execute arbitrary code with the privileges of a local user.
The vulnerability is caused due to an unspecified error when handling certain document files. "
We confirm the existence of vulnerabilities in some of our products.
"
company blog
says.
In a blog post, Antivirus Firm
Symantec
confirmed
that in September 2013, they have discovered attacks in the wild attempting to exploit this
vulnerability
during, detected as
Trojan.Mdropper
, which is a variant of
Backdoor.Vidgrab
.
Researchers mentioned that
Backdoor.Vidgrab
variant was used as a payload for a
watering hole attack
exploiting the Microsoft Internet Explorer Memory Corruption Vulnerability (
CVE-2013-3893
), which was patched in October 2013.
According to them, it is reasonable to assume that the same malware group, or another group with close connections, is behind the attacks that utilized the
Internet Explorer
and Ichitaro vulnerabilities.
"Backdoor.Vidgrab is known to be used to target the Asia-Pacific region with government sectors being the primary targets."
Vulnerable products:
JustSystems Ichitaro 2010
JustSystems Ichitaro 2011
JustSystems Ichitaro 2011 Sou
JustSystems Ichitaro 2012

Shou

JustSystems Ichitaro 2013 Gen
JustSystems Ichitaro 2013 Gen Trial
JustSystems Ichitaro Government 2009
JustSystems Ichitaro Government 2010
JustSystems Ichitaro Government 6
JustSystems Ichitaro Government 7
JustSystems Ichitaro Government 2006
JustSystems Ichitaro Government 2007
JustSystems Ichitaro Government 2008
JustSystems Ichitaro Portable with

oreplug

JustSystems Ichitaro Pro
JustSystems Ichitaro Pro 2 Trial
JustSystems Ichitaro Pro 2
JustSystems Ichitaro Viewer
Attackers are distributing malware with
spear phishing attack
, as email attachments with the Ichitaro file extension
.
jtd
, the files are actually .rtf or rich text format files. The files cannot be opened using Microsoft Word as they are designed to work only with Ichitaro.
"The attackers, possibly belonging to the APT12 group who may have also developed BackdoorVidgrab, are persistently targeting similar, if not the identical, targets by attempting to exploit Ichitaro." Symantec says.
A patch is available from the Ichitaro Web site to fix the vulnerability on the relevant products.