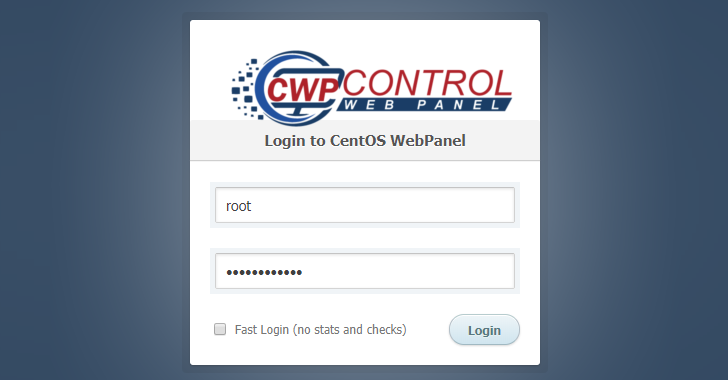 Malicious actors are actively attempting to exploit a recently patched critical vulnerability in Control Web Panel (CWP) that enables elevated privileges and unauthenticated remote code execution (RCE) on susceptible servers.
Tracked as CVE-2022-44877 (CVSS score: 9.8), the bug impacts all versions of the software before 0.9.8.1147 and was patched by its maintainers on October 25, 2022.
Control Web Panel, formerly known as CentOS Web Panel, is a popular server administration tool for enterprise-based Linux systems.
"login/index.php in CWP (aka Control Web Panel or CentOS Web Panel) 7 before 0.9.8.1147 allows remote attackers to execute arbitrary OS commands via shell metacharacters in the login parameter," according to NIST.
Gais Security researcher Numan Turle has been credited with discovering and reporting the flaw to the Control Web Panel developers.
Exploitation of the flaw is said to have commenced on January 6, 2023, following the availability of a proof-of-concept (PoC), the Shadowserver Foundation and GreyNoise disclosed.
"This is an unauthenticated RCE," Shadowserver said in a series of tweets, adding, "exploitation is trivial."
GreyNoise said that it has observed four unique IP addresses attempting to exploit CVE-2022-44877 to date, two of which are located in the U.S. and one each from the Netherlands and Thailand.
WEBINAR
Discover the Hidden Dangers of Third-Party SaaS Apps
Are you aware of the risks associated with third-party app access to your company's SaaS apps? Join our webinar to learn about the types of permissions being granted and how to minimize risk.
RESERVE YOUR SEAT
In light of active exploitation in the wild, users reliant on the software are advised to apply the patches to mitigate potential threats.
This is not the first time similar flaws have been discovered in CWP. In January 2022, two critical issues were identified in the hosting panel that could have been weaponized to achieve pre-authenticated remote code execution.