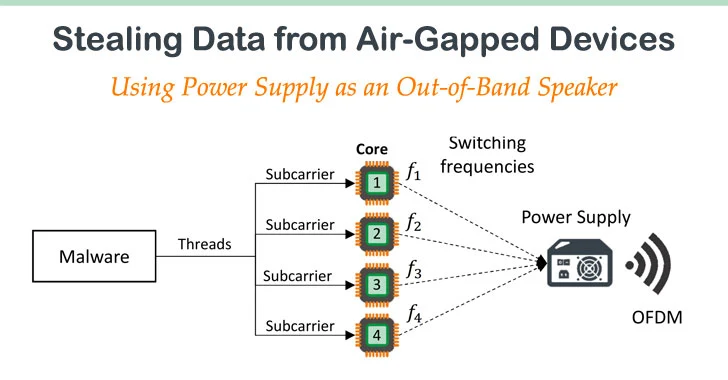 Cybersecurity researcher Mordechai Guri from Israel's Ben Gurion University of the Negev recently demonstrated a new kind of malware that could be used to covertly steal highly sensitive data from air-gapped and audio-gapped systems using a novel acoustic quirk in power supply units that come with modern computing devices.
Dubbed '
POWER-SUPPLaY
,' the latest research builds on a
series of techniques
leveraging electromagnetic, acoustic, thermal, optical covert channels, and even
power cables to exfiltrate data
from non-networked computers.
"Our developed malware can exploit the computer
power supply unit
(PSU) to play sounds and use it as an out-of-band, secondary speaker with limited capabilities," Dr. Guri outlined in a paper published today and shared with The Hacker News.
"The malicious code manipulates the internal switching frequency of the power supply and hence controls the sound waveforms generated from its capacitors and transformers."
"We show that our technique works with various types of systems: PC workstations and servers, as well as embedded systems and IoT devices that have no audio hardware. Binary data can be modulated and transmitted out via the acoustic signals."
Using Power Supply as an Out-of-Band Speaker
Air-gapped systems
are considered a necessity in environments where sensitive data is involved in an attempt to reduce the risk of data leakage. The devices typically have their audio hardware disabled so as to prevent adversaries from leveraging the built-in speakers and microphones to pilfer information via
sonic and ultrasonic waves
.
Thus deploying air-gap malware requires that both the transmitting and receiving machines be located in close physical proximity to one another and that they are infected with the appropriate malware to establish the communication link, such as through social engineering campaigns that exploit the target device's vulnerabilities.
POWER-SUPPLaY functions in the same way in that the malware running on a PC can take advantage of its PSU and use it as an out-of-band speaker, thus obviating the need for specialized audio hardware.
"This technique enables playing audio streams from a computer even when audio hardware is disabled, and speakers are not present," the researcher said. "Binary data can be modulated and transmitted out via the acoustic signals. The acoustic signals can then be intercepted by a nearby receiver (e.g., a smartphone), which demodulates and decodes the data and sends it to the attacker via the Internet."
Put differently, the air-gap malware regulates the workload of modern CPUs to control its power consumption and the switching frequency of the PSU to emit an acoustic signal in the range of 0-24kHz and modulate binary data over it.
Air-Gap Bypass and Cross-Device Tracking
The malware in the compromised computer, then, not only amasses sensitive data (files, URLs, keystrokes, encryption keys, etc.), it also transmits data in WAV format using the acoustic sound waves emitted from the computer's power supply, which is decoded by the receiver — in this case, an app running on an Android smartphone.
According to the researcher, an attacker can exfiltrate data from audio-gapped systems to the nearby phone located 2.5 meters away with a maximal bit rate of 50 bit/sec.
One privacy-breaking consequence of this attack is
cross-device tracking
, as this technique enables the malware to capture browsing history on the compromised system and broadcast the information to the receiver.
As a countermeasure, the researchers suggest zoning sensitive systems in restricted areas where mobile phones and other electronic equipment are banned. Having an intrusion detection system to monitor suspicious CPU behavior, and setting up hardware-based signal detectors and jammers could also help defend against the proposed covert channel.
With air-gapped
nuclear facilities in Iran and India
the target of security breaches, the new research is yet another reminder that complex supply chain attacks can be directed against isolated systems.
"The POWER-SUPPLaY code can operate from an ordinary user-mode process and doesn't need hardware access or root-privileges," the researcher concluded. "This proposed method doesn't invoke special system calls or access hardware resources, and hence is highly evasive."