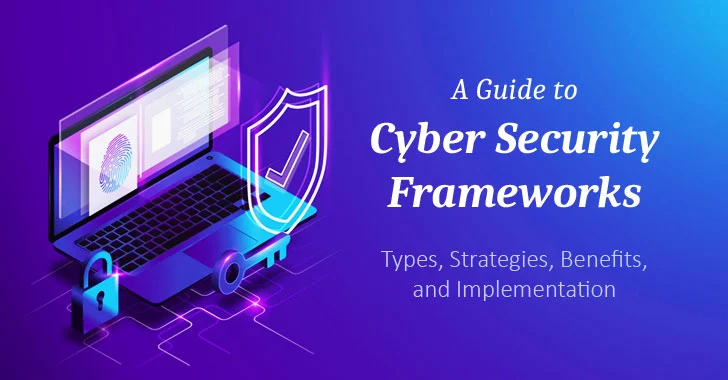 Organizations around the world are wondering how to become immune from cyber attacks which are evolving every day with more sophisticated attack vectors.
IT teams are always on the lookout for new ransomware and exploit spreading in the wild, but can all these unforeseen cyber attacks be prevented proactively?
That's definitely a 'NO,' which is why there's a reactive approach in place to save organisations from the aftermath of take downs, and with proper cybersecurity practices, one can reduce the chances of becoming a victim.
To do that, organizations should follow specific
cybersecurity frameworks
that will assist them in redefining and reinforcing their IT security and staying vigilant against cyber attacks.
In this article, we'll understand what is cybersecurity framework, why they are mandatory for organizations, and what are their types, strategies, benefits, and implementation in detail.
What is a Cybersecurity Framework?
Cybersecurity framework is a predefined set of policies and procedures that are defined by leading cybersecurity organizations to enhance cybersecurity strategies within an enterprise environment, and it is documented for theoretical knowledge and practical implementation procedures.
These frameworks are, at times, designed targeting a specific industry and are built to reduce the unknown vulnerabilities and misconfigurations existing within an enterprise network.
To keep this simple, let's say the cybersecurity framework is a blueprint to enrich your enterprise IT security.
Why are cybersecurity frameworks important for organizations?
Cybersecurity frameworks will upgrade your existing security protocols, and bring in new security layers if there isn't one existing already.
These frameworks will also help enterprises understand where their security standards are and how can they improve it.
Since these frameworks are well designed and tested under different situations, enterprises can ensure they are reliable.
Cybersecurity Framework Strategies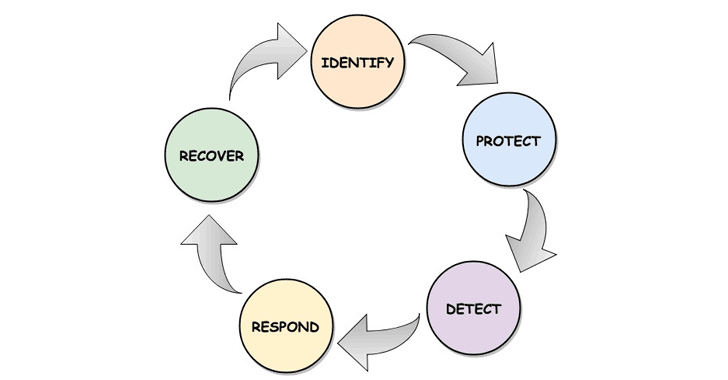 Five main processes that define the cybersecurity framework are: Identity, Protect, Detect, Respond, and Recover. Any cybersecurity framework will work based upon this process.
Let's understand these processes one-by-one.
1.) Identify:
This function helps the organization identify the existing cyber touch points within a business environment. Those could be IT assets, resources, information, and more.
2.) Protect:
This one takes care of corporate access control, data security, and maintenance to take care of cybersecurity in and around the business environment. Most likely, it is a proactive phase of enterprise cybersecurity.
3.) Detect:
This function is where an organization will identify any potential breaches by monitoring the logs and taking care of intrusion detection procedures at the network and device level.
Security information and event management are all covered under this procedure.
4.) Respond:
Once the breach is detected organizations need to take care of the respond procedure—understanding the breach, fixing the vulnerability, and proceeding with the recovery.
The mitigation, response planning, and improvements will be handled at this stage.
5.) Recover:
Recover planning procedures, like disaster recovery system and backup plans, will be handled in this stage of the cybersecurity framework strategy.
Types of Cybersecurity Frameworks
Now, let's get into the types of cybersecurity frameworks. There are a number of cybersecurity frameworks existing in the industry; however, we included the most frequently used ones in this article.
ISO 27001/27002
International Standards Organizations (ISO) was the one who did develop
ISO27000
, that covers all the broad aspects of the cybersecurity framework that can be applied to businesses of any vertical.
Considered as an equivalent to ISO 9000 standards for manufacturing, helps organizations define and measure their quality of cybersecurity existing within their environment.
ISO2700 defines an overview, while ISO27001 takes care of the requirements, and ISO27002 takes care of the implementation procedures.
All these frameworks are documented to help enterprises establish the same around their corporate networks.
Along with the above list of standards, ISO 27799 defines security pertaining to the healthcare industry.
CIS Security Controls
Center for Internet Security (CIS) has defined a set of critical security controls that organizations must establish within their network for effective cybersecurity strategies and framework.
CIS has defined three sets of
critical security controls
—they are basic, foundational, and organizational—counting 20 controls altogether. They address various security controls that should be existing inside an enterprise environment.
Organizations need to deploy all these 20 critical controls to achieve the best security environment and sustain the same forever. If businesses can't establish 20, they can at least try establishing 10 security controls to reach halfway there.
NIST framework
The US National Institute of Standards and Technology (
NIST
) have similar policies and norms that are documented, targeting government organizations to build effective information security practices.
This framework can also be applied to other industries as well. There are Controlled Unclassified Information (CUI), which will be the prime focus of this framework.
PCI DSS
Payment Card Industry Data Security Standard (
PCI DSS
) is a cybersecurity framework designed to improve the security of payment accounts, which is protecting debit, credit, and cash card transactions.
All these frameworks are built and documented to make sure enterprises are practicing the industry standards and keeping their security clean and safe.
Implementing cybersecurity frameworks
After identifying the right cybersecurity framework for the enterprise, this has to be practiced as per the document guidelines. To do that, some steps have to be implemented to get things started and going.
Businesses first need to test and identify the current security posture inside their environment
Analyze the existing projects, the process involved in these projects and the resources involved with it
Understand the cybersecurity framework by reading through the documents
Distinguish what security controls exist and doesn't exist within the enterprise network
Communicate where the security layers are lagging and define a plan to establish the same
Implement the same in a defined time-frame to keep things on track and time
Highlight controls that outperform the controls defined by the framework
Discuss the entire plan with the key players, including stakeholders, and proceed with the implementation
Audit the progress of implementation continuously
Generate reports and conduct meetings to measure the challenges
Document the entire process for audits and other benefits
Cybersecurity frameworks will play a key role in establishing and sustaining unforeseen cyber situations, giving organizations an upper hand over cyber criminals.
Businesses need to understand the demands that they need to keep up to, analyze the entire implementation procedures, and do the same only after discussing the same with stakeholders and IT departments.
Advantages
Cybersecurity frameworks and its policies can overlap with each other allowing organizations to become compliant to multiple frameworks with minimum efforts
Enhanced cybersecurity
Better data protection
Easy compliance and audit management
Disadvantages
Implementation can take days, thus affecting productivity
An improper implementation may lead to security loopholes
Financial limitations may apply
With cyber attacks becoming more sophisticated lately, organizations should follow the right cybersecurity frameworks and build better defenses to keep the hackers at bay.
Establishing the frameworks can take you halfway through compliance but sustaining the same always will yield great results towards cybersecurity of your organisation, keeping it as well as its customers safe and secure.