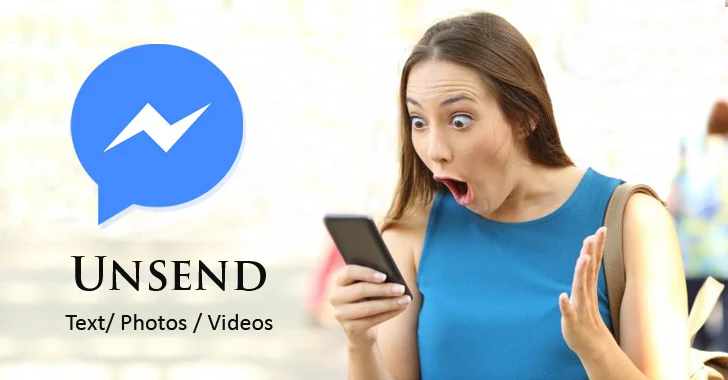 Ever sent a message on Facebook Messenger then immediately regretted it, or an embarrassing text to your boss in the heat of the moment at late night, or maybe accidentally sent messages or photos to a wrong group chat?
Of course, you have. We have all been through drunk texts and embarrassing photos many times that we later regret sending but are forced to live with our mistakes.
Good news, Facebook is now giving us a way to erase our little embarrassments.
After offering a
similar feature to WhatsApp users
two years ago, Facebook is now rolling out a long-promised option to delete text messages, photos, or videos inside its Messenger application starting from Tuesday, February 5.
You Have 10 Minutes to Delete Sent Facebook Messages
The unsend feature allows users to delete a message within 10 minutes of sending it, for both individual and group chats.
Previously, Messenger offered the "delete" option that allowed users to only delete messages for them—but the recipient can still see the message. Now, the option includes two choices "remove for everyone" and "remove for you," giving users more control over their already sent messages.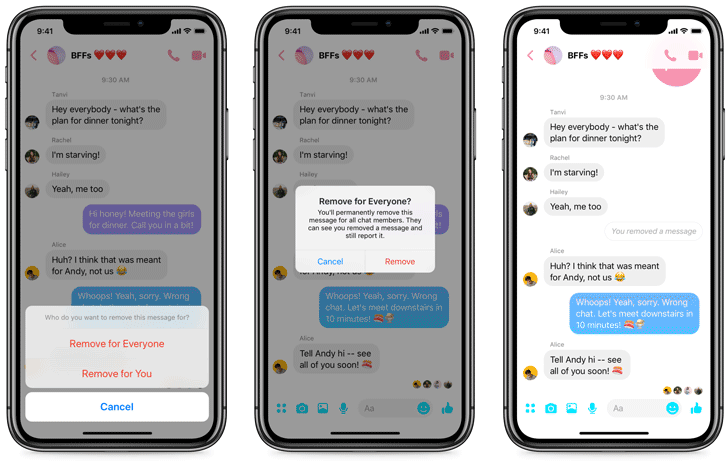 The social network promised the unsend feature in Messenger after it was revealed last year that Facebook CEO Mark Zuckerberg had an option to "delete" messages that were sent on the messaging app.
As promised, the company has now made the
unsend option
available to all users.
Obviously, unsend does not mean unseen. If you send a message and the receiver see it immediately after receiving it, and before you think of deleting it, the unsend feature won't help you.
But your quickest move might help you unsend the message so that it is not seen on the other side of the conversation.
Here's How to Unsend Messages on Facebook Messenger
It is quite simple and straightforward.
Long press on the message you want to remove.
You will get both a standard emoji response window on the top of that message, as well as three options at the bottom of the screen: Copy, Remove, and Forward.
Selecting the Remove option will then display two options: "Remove for Everyone" and "Remove for You."
You know what you have to do now. Tapping the "Remove for Everyone" option will remove the message from the chat so that nobody can see the message after that.
It should be noted that the unsend feature also works for removing photos and videos sent to a user.
Just like WhatsApp, Messenger will replace the removed chat bubble with a text message notifying everyone in the conversation that the message has been removed. But remember, you will have up to 10 minutes to remove the message after being sent.
The Remove for You option will function in the same way the previous Delete option works.
Facebook is not the first one to offer an "unsend" feature in its chat services, including WhatsApp and Messenger. Secure messaging app Telegram has also been allowing its users to remove messages since years.