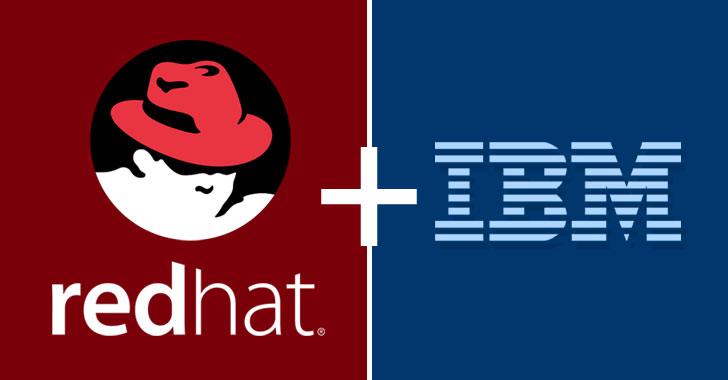 It's been quite a year for the open source platforms.
Earlier this year, Microsoft acquired popular code repository hosting service
GitHub for $7.5 billion
, and now IBM has just announced the biggest open-source business deal ever.
IBM today confirmed that it would be acquiring open source Linux firm
Red Hat
for $190 per share in cash, working out to a total value of approximately $34 billion.
Red Hat, known for its Red Hat Enterprise Linux (RHEL) operating system, is a leading software company that offers open-source software products to the enterprise community. Even Oracle uses Red Hat's source code for its Oracle Linux product.
Red Hat's last year revenue was $2.4 billion, and this year the company has earned $2.9 billion. But if Red Hat products are open source and updates are free, you might be wondering how does the company earn.
Red Hat was one of the first companies who found a successful way to make money from free open-source software. It offers consulting services—including assessments, implementations, platform migrations, solution integration, and application development.
IBM Acquires Red Hat to Target Cloud Computing Giants
Like other big tech companies, IBM has also been a major supporter of Linux and contributor to the kernel and other open source projects, but the company has been left behind Amazon, Alphabet (Google) and Microsoft when it comes to cloud computing.
The acquisition deal will help IBM expand its reach as an enterprise cloud computing provider.
"The acquisition of Red Hat is a game-changer. It changes everything about the cloud market," Ginni Rometty, IBM Chairman, President, and Chief Executive Officer said in a statement.

"IBM will become the world's #1 hybrid cloud provider, offering companies the only open cloud solution that will unlock the full value of the cloud for their businesses."
IBM: Red Hat Will Remain Independent Unit
It is important to be noted that Red Hat will continue to be led by Red Hat CEO Jim Whitehurst and Red Hat's current management team, as before. IBM intends to maintain Red Hat's headquarters, facilities, brands, and practices.
"Importantly, Red Hat is still Red Hat. When the transaction closes, as I noted above, we will be a distinct unit within IBM, and I will report directly to IBM CEO Ginni Rometty. Our unwavering commitment to open source innovation remains unchanged," said James M. Whitehurst, CEO at Red Hat.

"The independence IBM has committed to will allow Red Hat to continue building the broad ecosystem that enables customer choice and has been integral to open source's success in the enterprise."
According to IBM, the deal between IBM and Red Hat has already been approved by both of the companies' boards of directors, but it is still subject to Red Hat shareholder and regulatory approvals.
If all goes as planned, the acquisition deal is expected to close in the second half of 2019.