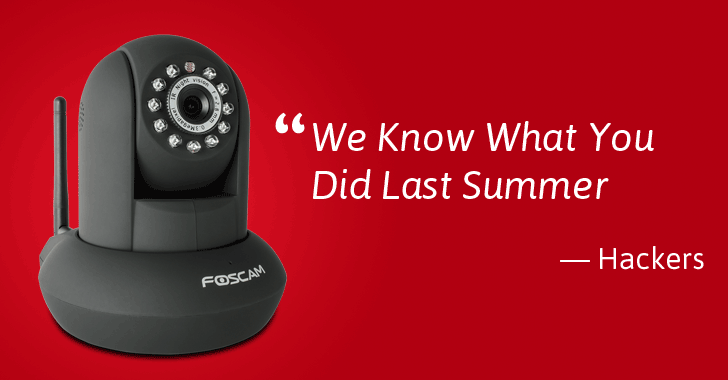 Security researchers have discovered over a dozen of vulnerabilities in tens of thousands of web-connected cameras that can not be protected just by changing their default credentials.
Vulnerabilities found in two models of IP cameras from China-based manufacturer Foscam allow attackers to take over the camera, view video feeds, and, in some cases, even gain access to other devices connected to a local network.
Researchers at security firm F-Secure
discovered
18 vulnerabilities in two camera models — one sold under the Foscam C2 and other under Opticam i5 HD brand — that are still unpatched despite the company was informed several months ago.
In addition to the Foscam and Opticam brands, F-Secure also said the vulnerabilities were likely to exist in 14 other brands that use Foscam internals, including Chacon, 7links, Netis, Turbox, Thomson, Novodio, Nexxt, Ambientcam, Technaxx, Qcam, Ivue, Ebode and Sab.
The flaws discovered in the IP cameras includes:
Insecure default credentials
Hard-coded credentials
Hidden and undocumented Telnet functionality
Remote Command Injections
Incorrect permissions assigned to programming scripts
Firewall leaking details about the validity of credentials
Persistent cross-site scripting
Stack-based Buffer overflow attack
Changing Default Credentials Won't Help You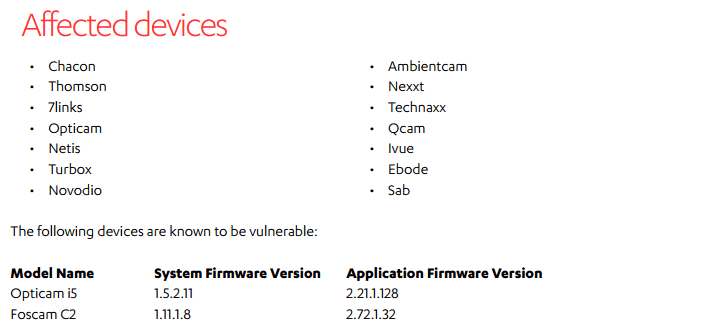 Usually, users are always advised to change the default credentials on their smart devices, but in this case, Foscan is using hard-coded credentials in cameras, so attackers could bypass passwords even if users set a unique one.
"Credentials that have been hard-coded by the manufacturer cannot be changed by the user. If the password is discovered and published on the internet (which often happens) attackers can gain access to the device. And as all devices have the same password, malware attacks such as worms can easily spread between devices," reads a report [PDF] released Wednesday by F-Secure.
These issues could allow an attacker to perform a wide range of attacks, which includes gaining unauthorized access to a camera, accessing private videos, performing remote command injection attacks, using compromised IP cameras for DDoS or other malicious activities, and compromising other devices in the same network.
Hidden and undocumented Telnet functionality could help attackers use Telnet to discover
"additional vulnerabilities in the device and within the surrounding network."
Gaining Persistent Remote Access to the Affected Camera
Three vulnerabilities, including built-in file transfer protocol server that contains an empty password that can't be changed by the user, a hidden telnet function and incorrect permissions assigned to programming scripts, could be exploited by attackers to gain persistent remote access to the device.
"The empty password on the FTP user account can be used to log in. The hidden Telnet functionality can then be activated. After this, the attacker can access the world-writable (non-restricted) file that controls which programs run on boot, and the attacker may add his own to the list," F-Secure researchers says.
"This allows the attacker persistent access, even if the device is rebooted. In fact, the attack requires the device to be rebooted, but there is a way to force a reboot as well."
No Patch Despite being Alerted Several Months Ago
The security firm said it notified of the vulnerabilities to Foscam several months ago, but received no response. Since the security camera maker has not fixed any of the vulnerabilities to date, F-Secure has not released proof-of-concept (PoC) exploits for them.
According to F-Secure, these type of insecure implementation of devices and ignorance of security allowed the
Mirai malware
to infect hundreds of thousands of vulnerable IoT devices to cause
vast internet outage
last year by launching massive DDoS attacks against Dyn DNS provider.
In order to protect yourself, you need to be more vigilant about the security of your Internet-of-Thing (IoT) devices because they are dumber than one can ever be.
Researchers advised users who are running one of these devices to strongly consider running the device inside a dedicated local network that's unable to be reached from the outside Internet and isolate from other connected devices.
As a best practice, if you've got any internet-connected device at home or work, change its credentials if it still uses default ones. But changing default passwords won't help you in this case, because Foscam IP cameras are using hard-coded credentials.