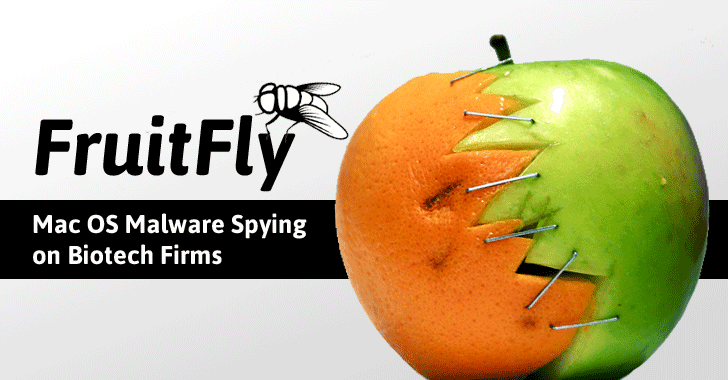 Security researchers have discovered a rare piece of Mac-based espionage malware that relies on outdated coding practices but has been used in some previous real-world attacks to spy on biomedical research center computers.
Dubbed
Fruitfly
, the malware has remained undetected for years on macOS systems despite using unsophisticated and "antiquated code."
Infosec firm Malwarebytes discovered Fruitfly, detected as
'OSX.Backdoor.Quimitchin,'
after one of its IT administrators spotted some unusual outgoing activity from a particular Mac computer.

According to the researchers, the recently discovered what they're calling "the first Mac malware of 2017" contains code that dates before OS X, which has reportedly been conducting detailed surveillance operation on targeted networks, possibly for over two years.
Fruitfly uses a hidden pearl script to communicate back to two command-and-control (C&C) servers and has the ability to perform actions like capturing webcam and screenshots from both Mac and Linux systems, grabbing the system's uptime, and moving and clicking a mouse cursor.
Fruitfly can also collect information about other devices connected to the same network as the infected Mac, and then tries to connect to them, according to a
blog post
published by Malwarebytes.
The malware also uses a secondary script and Java class to hide its icon from showing in the macOS Dock, though it's still unclear how the malware got distributed and infected the machines.
What's more interesting is that the malware uses code that pre-dates Apple's OS X operating system, including SGGetChannelDeviceList, SGSetChannelDevice, SGSetChannelDeviceInput, and SGStartRecord.
UPCOMING WEBINAR
🔐 Mastering API Security: Understanding Your True Attack Surface
Discover the untapped vulnerabilities in your API ecosystem and take proactive steps towards ironclad security. Join our insightful webinar!
Join the Session
Researchers said the malware is even running open-source "libjpeg" code to open or create JPEG-formatted image files, which was last updated in 1998.
On further digging into the code, the researchers discovered the malware had even gone through changes to "support" Mac OS X Yosemite indicating Fruitfly is at least two years old.
However, the old code and upgrade to support Mac Yosemite do not indicate the exact creation date of the malware.
"The only reason I can think of that this malware has not been spotted before now is that it's being used in very tightly targeted attacks, limiting its exposure," Thomas Reed of Malwarebytes wrote in the post.
"There have been [many] stories over the past few years about Chinese and Russian hackers targeting and stealing the United States and European scientific research. Although there is no evidence at this point linking this malware to a specific group, the fact that it has been seen specifically at biomedical research institutions certainly seems like it could be the result of exactly that kind of espionage."
The Fruitfly's code even includes Linux shell commands that show signs of the malware potentially running just fine on Linux operating system. So, it would come as no surprise if a Linux variant of Fruitfly was in operation.
Reed also said he has also come across related Windows executables that connected to the same C&C server used by the Fruitfly malware but date back to at least 2013.
However, the good news is that Apple has released an update for macOS to address Fruitfly. Although Apple automatically pushes the update, Mac users should consider checking their systems for infections, which is actually known as OSX.Backdoor.Quimitchip.