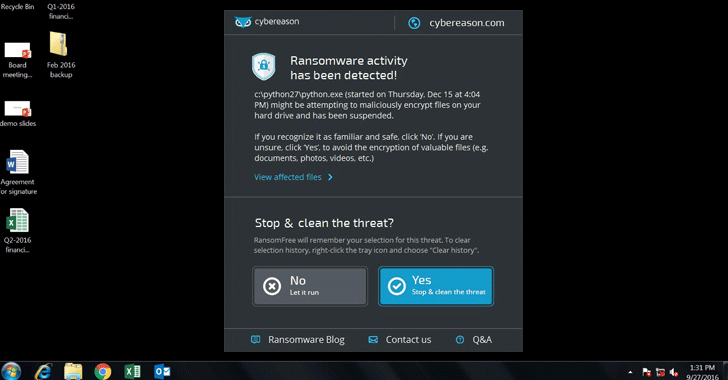 Ransomware has risen dramatically since last few years, so rapidly that it might have already hit you or someone you know.
With hundred of thousands of ransomware variants emerging every day, it is quite difficult for traditional signature-based antivirus tools to keep their signature database up-to-date.
So, if signature-based techniques are not enough to detect ransomware infection, then what else can we do?
The solution is
RansomFree
.
Boston-based cyber security firm Cybereason has
released
RansomFree — a real-time ransomware detection and response software that can spot most strains of Ransomware before it starts encrypting files and alert the user to take action.
RansomFree is a free standalone product and is compatible with PCs running Windows 7, 8 and 10, as well as Windows Server 2010 R2 and 2008 R2.
Instead of regularly updated malware signatures to fight the bad programs, RansomFree uses
"behavioral and proprietary deception"
techniques to detect new ransomware variants in action before the threat has a chance to encrypt your data.
The company analyzed tens of thousands of ransomware variants belonging to more than 40 ransomware strains, including Locky, TeslaCrypt, Cryptowall, and Cerber and
"identified the behavioral patterns that distinguish ransomware from legitimate applications."
"The ability to detect and stop never-before-seen ransomware is one of the features that makes RansomFree so unique," the company's spokesperson told The Hacker News. "The tool identifies ransomware behaviors including attempts targeting local disks, as well as detecting and stopping encryption over shared network drives."
If it finds any such behavior on your PC, RansomFree suspends that program and flags it for your review. It's then up to you to either enable the program or allow RansomFree to stop it permanently.
By default, the anti-ransomware tool suspends any activity it finds suspicious — even if it is a legitimate encryption software that has some behavior in common with ransomware.
With this type of approach, even brand new ransomware infections will be stopped in their tracks without you having to worry about updates to the malicious software.
"Pervasive ransomware variants have outsmarted traditional endpoint defenses, such as antivirus software, leaving individuals exposed to the real dangers of cyber crime," said Uri Sternfield, Cybereason Senior Security Researcher.
"What's worse, a major part of the consumer population threatened by ransomware attacks have little recourse but to either pay the ransom, or risk losing their stolen content."
RansomFree can detect 99 percent of all ransomware strains and will also offer you protection against future ransomware strains, as the company said RansomFree would be updated daily in an attempt to stay ahead in this arms race.
RansomFree is
free to download
directly from Cybereason's official site.
Earlier this year, we also reported about another behavior-based anti-ransomware tool, dubbed
RansomWhere
, available for Mac OS X users that can identify ransomware-like behavior by continually monitoring the file-system for the creation of encrypted files by suspicious processes.
RansomWhere also works in a similar way like RansomFree, blocking the suspicious processes and waiting for the user to decide whether to allow or stop the process.
Besides using an anti-ransomware tool, you are also recommended to regularly backup your files, keep your OS and software programs up-to-date, disable Java and Flash when possible, do not download apps from unknown, untrusted websites, and be extra conscious when opening links and downloading attachments in an email.