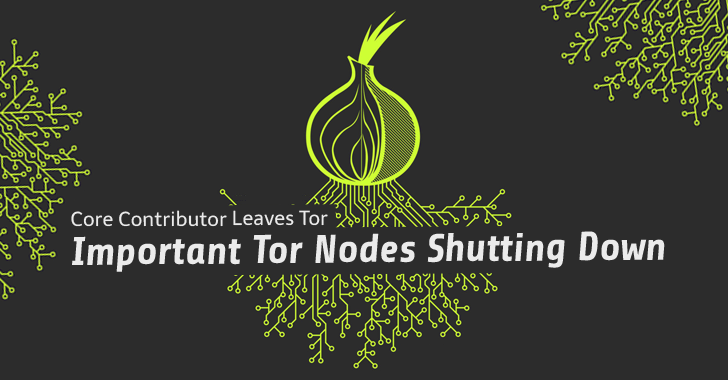 Another blow to the
Tor Project
: One of the Tor Project's earliest contributors has decided to quit the project and shut down all of the important Tor nodes under his administration.
Lucky Green was part of the Tor Project before the anonymity network was known as TOR. He probably ran one of the first 5 nodes in the TOR network at its inception and managed special nodes inside the anonymity network.
However, Green
announced
last weekend that
"it is no longer appropriate"
for him to be part of the Tor Project, whether it is financially or by providing computing resources.

TOR, also known as
The Onion Router
, is an anonymity network that makes use of a series of nodes and relays to mask its users' traffic and hide their identity by disguising IP addresses and origins.
The TOR network is used by privacy-conscious people, activists, journalists and users from countries with strict censorship rules.
Crucial and Fast TOR Nodes to be Shut Down Soon
Alongside a number of fast Tor relays, Green currently runs the Tor node "Tonga," very well known as the "
Bridge Authority
."
Bridge Authorities are critical network components that have their IP addresses hard-coded in the TOR apps, allowing the anonymity network to prevent various bans and blocking attempts at the ISP level. These nodes also hold critical data regarding other TOR nodes.
Must Read:
Here's Why Riffle Anonymity Network is Better than TOR
.
Moreover, since all Tor servers added to the anonymity network report back to one of the Bridge Authorities, shutting down the Bridge Authority will need an update to the TOR code.
So, practically, Lucky Green's exit from the Tor Project is a big deal.
UPCOMING WEBINAR
🔐 Mastering API Security: Understanding Your True Attack Surface
Discover the untapped vulnerabilities in your API ecosystem and take proactive steps towards ironclad security. Join our insightful webinar!
Join the Session
Green didn't give the exact reason behind his decision to leave the Tor Project, though he hinted that "recent events" lead to his exit. Here's what he said:
"I feel that I have no reasonable choice left within the bounds of ethics, but to announce the discontinuation of all Tor-related services hosted on every system under my control. I wish the Tor Project nothing but the best moving forward through those difficult times."
Although it is not clear, the recent event could be the result of the turmoil in the Tor Project, which surfaced when
Jacob Appelbaum
forced to leave the Tor Project amid some serious sexual allegations. Appelbaum strongly denies these accusations, but still decided to step down.
Green is not immediately closing down these crucial TOR nodes. He will shut down these nodes, as well as their associated cryptographic keys, on August 31, giving the Tor developers enough time to update their network.