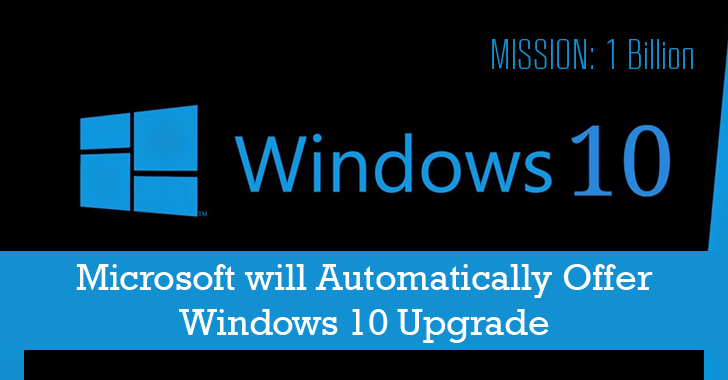 Microsoft wholeheartedly wants you to upgrade your PCs to Windows 10, so much so that the company plans to automatically download its new operating system to Windows 7/8 computers next year.
Just two weeks ago, Microsoft accidentally
pushed Windows 10 installation
to
Windows 7
and
Windows 8/8.1
users through the Windows Update process, but next year the company will do it on purpose.

MISSION '1 BILLION':
It doesn't come as a surprise, as Microsoft mentioned many times that it wants to get Windows 10 into as many hands as possible to reach its goal of 1 Billion installations.
Starting next year, Microsoft is planning to re-categorize Windows 10 as a "
Recommended Update
" in its Windows Update service.
This means that the Windows 10 upgrade process will start downloading and initiating automatically on thousands of devices.
Before:
The original approach for the Windows 10 roll-out included a two-step process:
Reserve your Copy of Windows 10
Start the upgrade process, after notifying user
After:
However, from early next year, Windows Update service will roll-out Windows 10 upgrade in following two steps:
Windows 10 Installation process will automatically start once you have made a reservation.
Before upgrade changes the OS, you'll be prompted to choose whether or not to continue.
"If you choose to upgrade, then you will have 31 days to roll back to your previous Windows version if you don't love it," Microsoft said in its blog post.
The company is not making any major changes to the Windows upgrade process, but you need to think before taking part in the reservation process.
As Microsoft's head of Windows and devices Terry Myerson said, the company will only present the dialog box once to end users, and Windows 10 will automatically download and initiate the upgrade process, depending on your Windows Update system settings.
So, users running Windows 7 and Windows 8.1 on a metered connection or slow Internet connection are recommended to turn off automatic updates in order to prevent the
Windows 10 installer
– large gigabytes in size – from downloading automatically.