The Tor Project has officially
launched
the first beta version of Tor Messenger, an open source and Encrypted instant messaging client that works on top of the Tor network.
Tor Messenger is designed by keeping both simplicity and privacy in mind.
The team claimed that their app encrypts the content of instant messages as well as makes it very difficult for snoopers and eavesdroppers to identify the user sending them.
Tor Messenger integrates the "
Off-the-Record
" (OTR) to encrypt messages and then routes them over Tor network in the same manner as the Tor Browser does for the web.
The app is built on Mozilla's instant messaging client Instantbird and works a lot like Adium, another popular instant messaging client.
Here's How to Install Tor Messenger in your PC: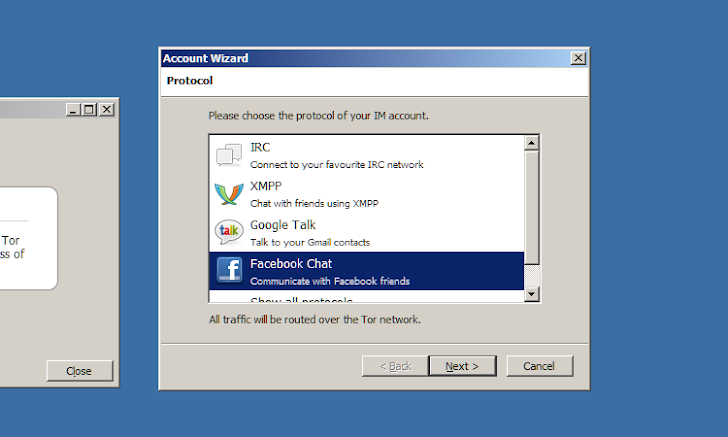 Tor Messenger can be run on versions of Windows, Mac, or Linux PC. To do so, you simply have to follow these simple steps:
Download Tor from here
Drag the app to your Applications folder
Run and launch the app (currently in beta)
Log in to your preferred instant messaging service or services
Once logged in, you will be able to chat securely and anonymously without any further extra hacking.
Tor Messenger client currently supports:
Jabber (XMPP) chat protocol
IRC (Internet Relay Chat)
Facebook Chat
Google Talk
Twitter
Yahoo!
Desktop clients like Adium for Mac and Pidgin for Windows
The goal of the team is both to make Tor more accessible as well as to create a secure chat client.
Tor Messenger: Future Integration
The Tor team's future Tor Messenger versions will include support for:
Sandboxing (for increased security)
Automatic updates
OTR for Twitter DMs
Better support for Tor's protocols
Secure multi-party communication (np1sec)
Encrypted File Transfers