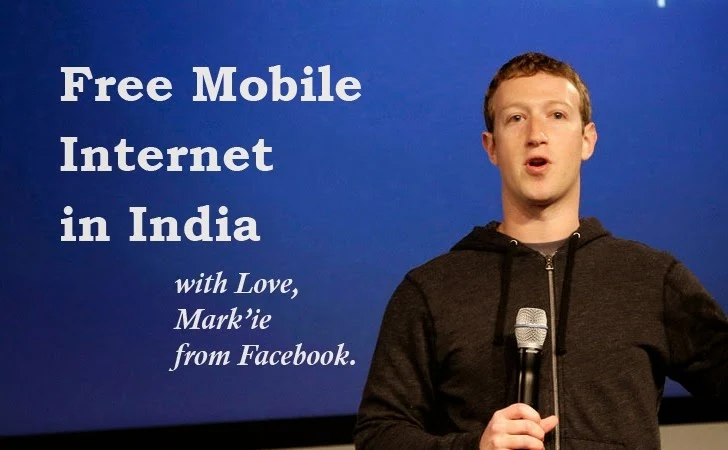 Last year, the founder of the Social Network giant highlighted the future of universal Internet access, the dream that Facebook founder
Mark Zuckerberg
wants to fulfill —
Making Internet access available to everyone
across the world just like a service as essential as of 911 in the case of an emergency.
Dreams are transforming into Reality!! Facebook's Internet.org app has launched in India to offer free Internet access to a set of websites for users in seven different circles, including Mumbai, Maharashtra, Gujarat, Andhra Pradesh, Chennai, Tamil Nadu and Kerala.
Internet.org
, with motto
'Internet for All'
, named after a project developed by the world's biggest social network site Facebook to expand Internet access to
"the next 5 billion people"
around the world who currently don't have it.
Facebook has tied up with India's Reliance Communications in an effort to provide free Internet services to users on mobile phones, making India the first country in Asia to get Facebook's Internet.org service.
The
Internet.org Smartphone app
will initially provide free Internet access to a
total of 38 websites and services
. The service will work for both existing and new subscribers of Reliance Communications and will work on both feature phones as well as Android smartphones.
India is not first country to receive the service, Internet.org app has far been available in
Colombia
and a handful of African countries, including
Zambia
,
Kenya
, and
Tanzania
, but now the service is making its way to India's billion-plus population.
"This is a big step forward in our efforts to connect everyone to the Internet, and to help people share their ideas and creativity with the entire world. We'll continue to improve the experience and roll it out to other parts of the world," Facebook said in a statement.
Most of the services on Internet.org are available in English and six local languages — Hindi, Tamil, Telugu, Malayalam, Gujarati, and Marathi — and they can be accessed through the dedicated Android app, from the start screen of the Opera Mini mobile Web browser, or from UCWeb's popular UC Browser app.
The full list of services includes:
Aaj Tak: News in Hindi
AccuWeather: Weather information
amarujala.com: News in Hindi
AP Speaks: Engage with local government
Babajob: Search for jobs
BabyCenter & MAMA: Learn about pregnancy and childcare
BBC News
Bing Search Cleartrip: Check train and flight schedules & buy tickets
Daily Bhaskar: Read local news
Dictionary.com
ESPN Cricinfo: Cricket updates
Facebook
Facts for Life: Health and hygiene information
Girl Effect: Articles and tips for girls
HungamaPlay: Music
IBNLive: News
iLearn: Learn from Women Entrepreneurs
India Today: Local news
Internet Basics
Jagran: Local news
Jagran Josh: Education and career information
Maalai Malar: News in Tamil
Maharashtra Times: News in Marathi
Malaria No More: Malaria information
manoramanews.com: Local news
Messenger: Send messages to friends and family
NDTV: Read news
Newshunt: Read news in English
OLX: Buy and sell products and services
Reliance Astrology: Read your horoscope
Reuters Market Lite: Get farming and crop information
Socialblood: Register to donate blood
Times of India: Read news
TimesJobs: Search for jobs
Translator: Translate words and phrases
Wikipedia: Find information
wikiHow: Find information
On the whole, it is reasonable to expect that giving poor people access to Internet and possibility of connecting with people anywhere around the world will be socially transforming the life in a very positive way.