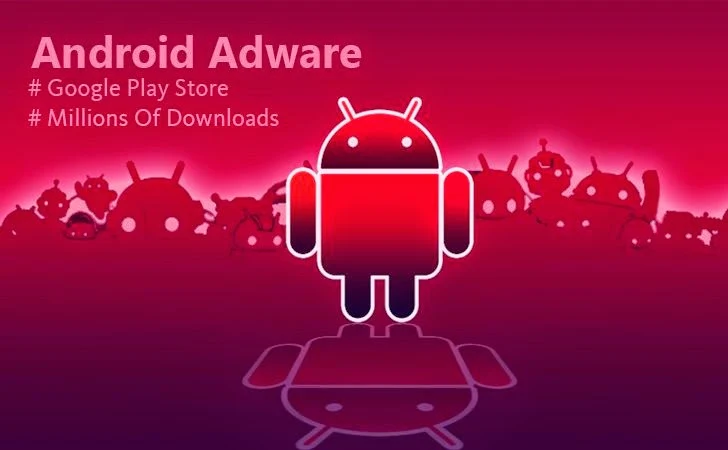 With the rise in mobile market, last year we have seen sharp growth in malicious '
adware
' — the most prevalent mobile threat in the world. And now, security researchers have once again found Google Play Store offering malicious apps that are
infecting millions of Android users with adware
.
It's not at all surprising that the Android operating system is surrounded by a number of unwanted intrusions that may gain users' attention to fall victim for one, but this issue might be even worse than we thought.
WHAT IS ADWARE ?
For those not familiar with adware, adware is a software that automatically displays or downloads advertising material like banners or pop-ups when a user is online. Doesn't sound dangerous, Right? But adware could result in a serious threat to users.
Android
Adware can pose a major threat to users' privacy, since some ad networks gather personal information like phone number, email address, and many more. Depending on where the ad network is based, there might be no legal guidelines for how that information could be used.
15 MILLION INSTALLS OF MALICIOUS APPS
Researchers from Security firm Avast has pointed out three popular gaming apps on Google Play store that actually infect users' device with "adware" when installed. What's interesting about this Android adware is that some of the apps have already been downloaded over a Million times.
The three apps found free in the Play Store include "Durak" card game app, "IQ Test" app and "Russian History" app. The apps are from different developers, but each has the same malicious software installed.
Durak card game app alone has 5 to 10 million installs, and the combination of all the three apps have more than 15 Million installs, according to the data on Google Play Store.
WARNING!! YOUR DEVICE IS INFECTED
Once installed on users smartphone, the malicious apps display advertisements disguised as warning messages to end users when they unlock their Android smartphones, according to a
blog post
published Tuesday by antivirus provider Avast.
"When you install Durak, it seems to be a completely normal and well working gaming app," says Avast researcher Filip Chytry. "This was the same for the other apps, which included an IQ test and a history app. This impression remains until you reboot your device and wait for a couple of days. After a week, you might start to feel there is something wrong with your device."
After almost 30 days before starting to spam out adverts, users will suddenly start seeing ads appear every time they unlock their device. These ads will warn them that their device is infected or full of porn or needs an update, which is, no doubt, a complete gag.
But, if you approve, you'll be redirected to malicious pages that could cause even more harm and potentially result in you being signed up for a premium SMS service that you have no interest in, and even in installing apps that simply collect your personal data for comfort while offering you no additional value.
SURPRISINGLY ADWARE DIRECTS USERS TO LEGITIMATE SECURITY APPS
What's more surprising is that the ads also directs users to the Google Play store pages for legitimate security applications as well, claiming that they will clear the smartphone of the advert-serving. "This kind of threat can be considered good social engineering," Chytry claims. As of now, Google has pulled the malicious apps out from its official store.
Google always bound to face trouble over the wide and open nature of its app checking policies on Google Play Store, and despite so many security measures, the search engine giant mostly fails to recognize the Android malware that are lurking around its Google Play store in vast numbers.
Obviously, using the
Google Play Store
to distribute malware through malicious apps is a violation of Google's Terms of Service and if detected, the app is removed from the play store and its developer's licence is cancelled. But when it comes to Adware, Google's security measures fail to detect it.