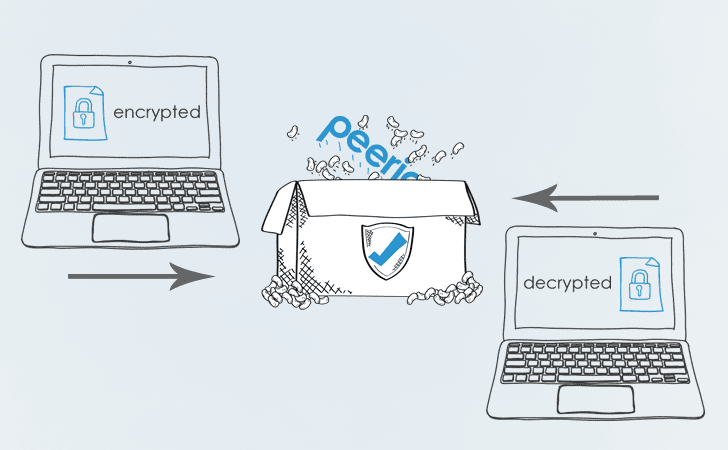 On one end, where governments of countries like U.K is criticizing end-to-end encryption and considering to ban the
encrypted communication apps
like Snapchat, CryptoCat, WhatsApp and Apple's iMessage. On the other hand, the Internet community has come up with a new and rather more secure encrypted communication app.
Dubbed
Peerio
, an "
encrypted productivity suite
" designed to offer much more usable alternative to PGP email and file encryption, so that every individual user and business can encrypt everything from Instant Messages to online file storage.
Peerio, released on Wednesday, is designed by 24-year-old
Nadim Kobeissi
– the creator of the end-to-end encrypted group messaging app
Cryptocat
and the encrypted file-sharing app
MiniLock
.
"
With Peerio everything you share or communicate with your team is secured with state-of-the-art encryption, and it's as easy as using Gmail. You don't need to learn to use it,
" Kobeissi
told
Wired. "Peerio brings crypto to where the people are."
At present, Pretty Good Privacy (PGP) technology is the only way to send end-to-end encrypted emails and messages, but is very difficult to use for most of the people. However, there are several companies working on making PGP easier to use in
end-to-end encrypted email
.
Among the most known are Google, who recently announced an alpha Google Chrome extension called "
End-to-End
" for sending and receiving emails securely, which is supposed to come out in beta later this year. The list also includes
Dark Mail
, a
Silent Circle
project which is at an even earlier stage in its development.
Though, Peerio avoids the complexity of the
PGP
key management by requiring users to create as long as 30 character passphrase that is then used to create a 100-bit entropy private key and encrypt the files. Whereas, the two-decade-old PGP works by creating a random key and requiring the user to keep that key file safe to prevent snoops from finding it.
In short, it means that when a user logs into Peerio on any machine and accesses his or her encrypted files, the user user doesn't need to worry about moving around or protecting that private key.
The emails and files users exchange with their friends will be stored on Peerio's servers, which can't be seen by anyone because the messages and files get encrypted locally, by the client, before being sent to the servers and on to the recipient.
The outfit has $250,000 in seed funding for the startup and has been
audited
by "e
xpert cryptographers and system penetration testers
", German security firm Cure53. The free version of the app only gets 1.2 GB in storage, and the Peerio team intends to sell premium features, such as more storage, as its business model. Although the client code is open source and available on
Github
.
Peerio is already available for Windows, Mac OS X and Chrome (which means it works for Linux and Chrome OS, as well). The Android and iOS version of apps are in the progress and will be available soon.