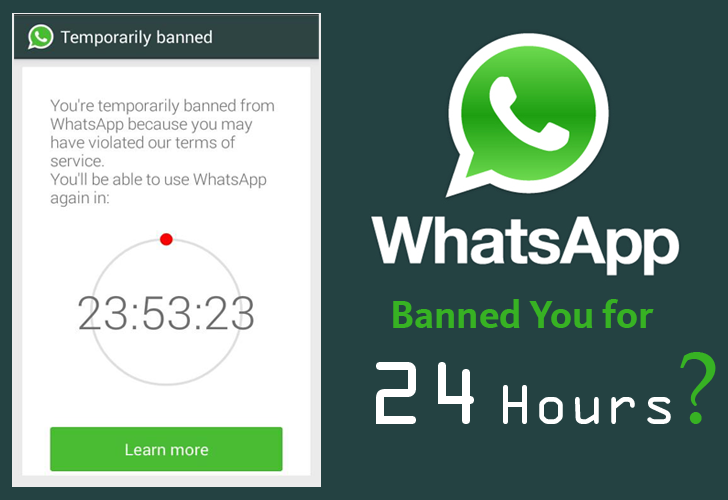 Are you one of those victims whose
WhatsApp app
has recently been banned?? Then you must have installed a 3rd-party version of WhatsApp client, like
WhatsAppMD
or
Whatsapp PLUS
in your mobile phone for sure.
Reportedly after 12 AM IST on 21st January 2015, WhatsApp, the widely popular messaging application, has started temporarily banning users for 24 Hours who are currently using any third-party WhatsApp clients and are being directed to download the official app on the Play Store instead.
Just in last few hours, large number of users have started complaining on Social media websites that they are being banned from the messaging service for 24 hours. Though the ban is temporary and the users facing the issue now could access their app after the period of 24 hours.
In an attempt to clear up why this is happening, Whatsapp team explained via its
FAQ website
, that it is against 'Terms of Service' to use WhatsApp Plus or any other 3rd-party unofficial app.
Why am I banned for using WhatsApp Plus and how do I get unbanned?
WhatsApp Plus is an application that was not developed by WhatsApp, nor is it authorized by WhatsApp. The developers of WhatsApp Plus have no relationship to WhatsApp, and we do not support WhatsApp Plus. Please be aware that WhatsApp Plus contains source code which WhatsApp cannot guarantee as safe and that your private information is potentially being passed to 3rd parties without your knowledge or authorization. Please uninstall your application and install an authorized version of WhatsApp from our website or Google Play. Then, you will be able to use WhatsApp.
WHATSAPP PLUS
WhatsApp Plus is an altered version of the official WhatsApp for Android which is pretty popular among advanced users, who want sleeker design and some other features. WhatsApp Plus provides some extra features compared to WhatsApp like:
Disabling your last seen and still being able to see others last seen time
700 new Themes
Extra new emoticons/emojis
You can edit file sharing options
Option to change the font, and color
More..
Even rumours from several popular news websites had suggested that WhatsApp is working on a new version of its instant messaging client,
WhatsApp PLUS
, in order to provide its users a lot of handy new features. However the news came out to be completely fake!!
If you have one installed in your smartphone, we suggest you to uninstall it if you don't want to go through that 24 hour ban. We will keep an eye on what's is going on... Stay Tuned to The Hacker News.