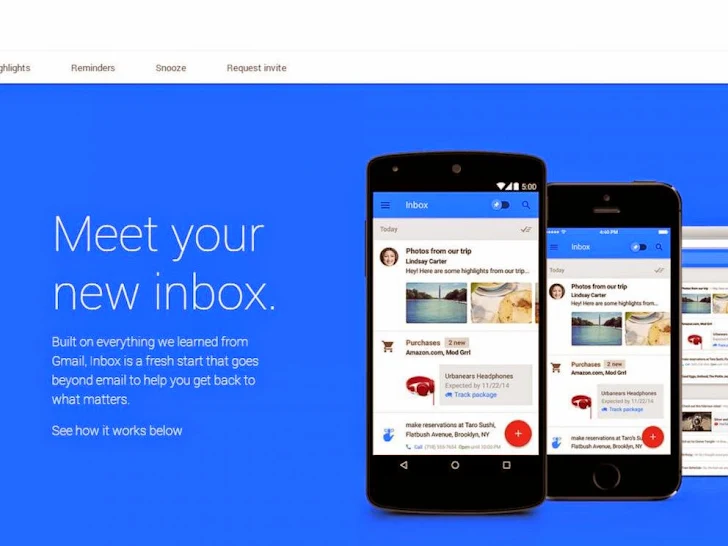 Google is offering its users a completely new and better experience of its mailing service. And in an effort to do this, the company has launched a new email service, an alternative to Gmail, called "
Inbox
" on Wednesday that aims to make email more useful and preview next-generation capabilities.
Inbox will not replace Gmail, the company's popular 10-year-old email product, instead it will sit next to its
Gmail service
and will provide users' better organize their emails with live alerts for appointments, flight bookings and package deliveries in a more user-friendly way.
"Years in the making, Inbox is by the same people who brought you Gmail, but it's not Gmail: it's a completely different type of inbox, designed to focus on what really matters," wrote Sundar Pichai, Google's senior vice president of Android, Chrome and apps, in a blog post.
According to the company, the Inbox service was designed to deal with the problem of getting too much email, in which the important and most urgent messages get lost amidst junk messages and endless threads.
Inbox solves this problem and displays only real-time updates to emails - for example, showing the delivery status of items bought online, showing reminders in a more accessible way that allows users to more easily keep track of their important chores and appointments.
"With this evolution comes new challenges: we get more email now than ever, important information is buried inside messages, and our most important tasks can slip through the cracks—especially when we're working on our phones," the company noted. "For many of us, dealing with email has become a daily chore that distracts from what we really need to do—rather than helping us get those things done."
Other Features Inbox Include:
Organising custom message bundles - from bank statements and online shopping purchases to travel reservations, to reduce inbox clutter.
Speed dialing a friend with a red + button.
Pin items to come back and address.
Marking tasks as done by swiping to right.
Find travel docs, photos and other critical information without opening the email.
Video Demonstration:
You can also have a look to its video demonstration:
The tech giant has made the new Inbox app available on the Web as well as on Android smartphones and
iPhones
, but we have access to the limited release, as it is being distributed via Google's tried-and-true invite system.
The company sent out invitations to selected Gmail users to try out the new service, but users were allowed to email the company at inbox@google.com to get an invitation. Inbox app is available on
Google Play Store
and it also appears to be on the
iOS
App Store.