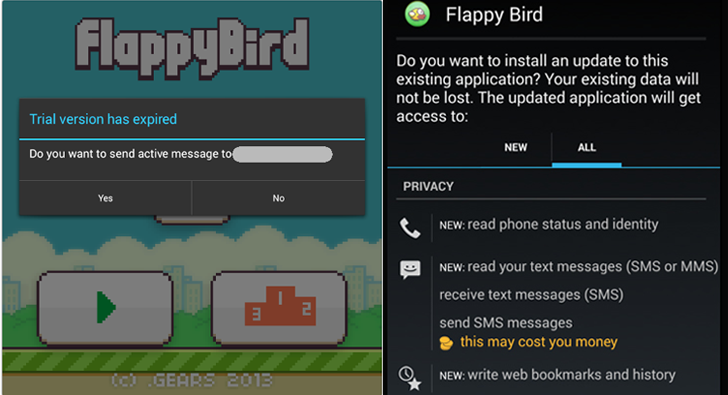 Flappy Bird, developed by a 29-year old, Dong Nguyen, was one of the top free gaming apps of the last month, but now officially unavailable for users.
After achieving income of $50,000 per day in advertising revenue, Dong Nguyen pulled out Flappy Bird gaming app from all the web app stores and now it's permanently dead.
"

Flappy

Bird was designed to play in a few minutes when you are relaxed

," says Dong Nguyen, in an exclusive interview with Forbes. "

But it happened to become an addictive product. I think it has become a problem. To solve that problem, it's best to take down Flappy Bird. It's gone forever.

"
Till now the reason is not clear from Dong's statement that why exactly he quit the app, but it's clear that his decision have given opportunity for hackers for creating a malicious version of this app and the app's popularity will help them to gain success in spreading Smartphone
malware
to mass and hence, the malicious apps are available in play stores with undesirable side effects.
After his single tweet, "I just cannot take this anymore." The users began downloading Flappy bird app from their play stores, without bothering it's the real version or not and after he pulled off the app from the play stores, hundreds of phones with Flappy Bird installed appeared for sale on eBay, racking up huge bids, as much as $100,000.
Sophos researchers examined the app available at non-official stores and found it malicious that sends SMS to premium numbers for continuing with the app and also get access to other mobile services. Rather the real version of the app was available for free.


The fake Flappy Bird app doesn't stop even after you exit the app as it needs to be killed from the task manager of your device. The fake app has ability to access your SD card with read and write permission, send SMS, receive and read without your intervention and it can also add and remove shortcuts without informing you, reported by Sophos.
Another fake Flappy Bird app was discovered by
Trend Micro
that appeared in unofficial stores in Russia and Vietnam. These apps mimic the behavior of the real app, but have some hidden features including secretly connecting to "
Command and Control
" server via Google Cloud Messaging for further instructions.

The apps seek for the personal data of the phone including phone number, carrier and email addresses together with the Gmail account registered with the phone.
Since the fake app is not available in Google play store, so
Android
gives a warning. Also, Android phones have a default setting to not allow "
off-market
" apps. Leaving this option alone will protect your devices from Flappy Bird malware.
Though it is not guaranteed that app available on official store are secure, but someone has kept an eye on it, and appropriate action will be taken automatically whenever found malicious. But if you install any third party app, then you are whole sole maintainer of the app and you are running it at your own risk.
If it is must for you to install third party apps, you must have a good anti-virus installed on your Smartphone which can inform you about any malicious activity being performed on your phone and keep an eye on your phone bills on a regular basis.
The users who were addicted to the Flappy Bird Game and can't resist themselves playing it in their free times or to relax themselves, are supposed to accept the reality that it has been dead. Now it's time to move on!