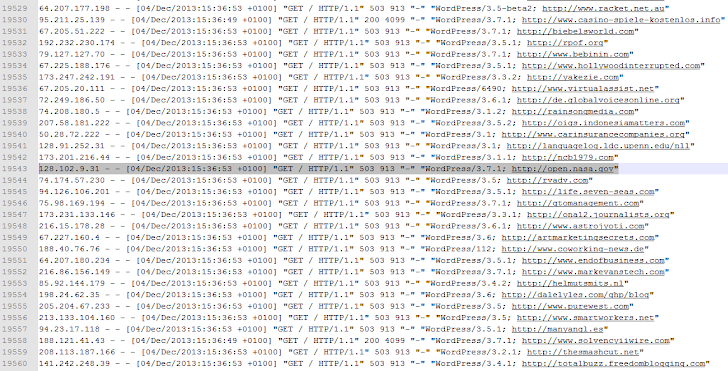 In a recent cyber attack on a Forum site, thousands of outdated legitimate WordPress blogs were abused to perform DDOS attacks using previously known
vulnerabilities
.
After analyzing the Log file from the victim's server, we have noticed many Wordpress CMS based educational (.EDU) and Government (.GOV) websites from where the attack was originated.
In the past we have reported about many such cyber attacks, where attackers hacked into the Wordpress blogs using password
brute-force attack
or they used the
PINGBACK vulnerability
in older versions of Wordpress without compromising the server.
WordPress has a built in functionality called
Pingback
, which allows anyone to initiate a request from WordPress to an arbitrary site and it can be used for a single machine to originate millions of requests from multiple locations.
We have seen more than 100,000 IP addresses involved in the recent DDOS attack and the victim's Forum website received more than 40,000 requests in 7 minutes from different
Wordpress
blogs and IP addresses.
In this recent attack, we have noticed more than 4000 .EDU and .GOV sites along with thousands of other abused sites, including following:
open.nasa.gov
oversight.house.gov
digitalbusiness.gov.au
pilr.blogs.law.pace.edu
itp.nyu.edu/~mlt324/MattTsBlog
cctevents.creighton.edu
tech.journalism.cuny.edu
languagelog.ldc.upenn.edu/nll
researchcenter.journalism.cuny.edu
testkitchen.colorado.edu
smartpyme.blogs.uoc.edu
journalism.cuny.edu
blogs.ei.columbia.edu
cctevents.creighton.edu
admissions.vanderbilt.edu/vandybloggers
erb.umich.edu
metalab.harvard.edu
greenlaw.blogs.law.pace.edu
and thousands more..
These large servers can cause much more damage in
DDoS attacks
because the servers have the large network bandwidth and are capable of generating significant amounts of traffic.
At this time it's not clear that either these Wordpress blogs are compromised or the Pingback vulnerability was used to perform the attack.
But It's always wise to learn from other's mistake. If you still use 'admin' or common name as a user name on your blog, change it, use a strong password. There are also security plug-ins available, two-factor authentication options available for WordPress and of course make sure you are up-to-date on the latest version of WordPress.