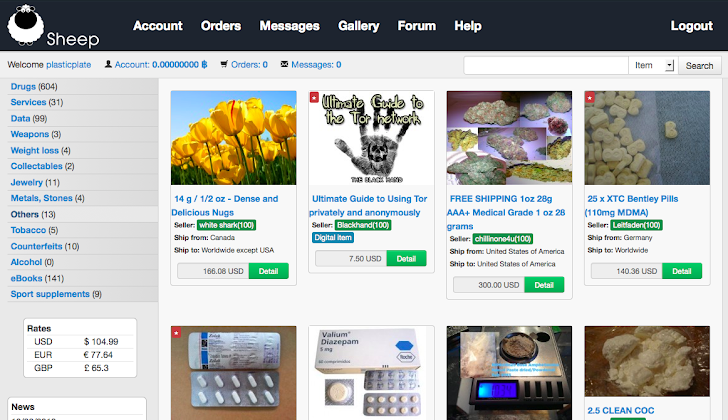 Sheep Marketplace
, one of the leading anonymous websites, after
Silk Road
's closure by U.S. Prosecutors, allegedly selling drugs, has gone offline claiming it was robbed of $6 million worth of
Bitcoins
.
Like
Silk Road
, Sheep Marketplace was a Deep Web site accessible via the
Tor network
and quickly grew into a replacement of other popular underground Bazaars.
Weeks ago, the Administrator of the Sheep Marketplace announced that withdrawals from online Wallet would be closed for a few hours as a new feature was being implemented, however deposits were still allowed.


Recently, The market's administration left a short message for users, which reads:
We are sorry to say, but we were robbed on Saturday 11/21/2013 by vendor EBOOK101. This vendor found a bug in the system and stole 5400 BTC – your money, our provisions, all was stolen. We were trying to resolve this problem, but we were not successful. We are sorry for your problems and inconvenience, all of the current BTC will be distributed to users, who have filled correct BTC emergency address. I would like to thank to all SheepMarketplace moderators of this, who were helping with this problem. I am very sorry for this situation. Thank you all.
The above note suggests that a random vendor from the site was able to find a bug in the system and steal thousands of Bitcoin. However, for the next ten days, users reported that they were unable to withdraw their remaining coins and over the weekend, the site was shut down.

But now it appears that the entire site was a scam, resulting in all of the buyers and sellers losing their money. In total, Sheep Marketplace's operator appears to have walked away with nearly 39,918 Bitcoins, which are currently worth more than $40 Million.


A website that monitors bitcoin transactions called
Blockchain
has tracked the movement of 39,918 bitcoins, which is believed to be the exact amount that was in Sheep Marketplace's possession and includes IP addresses from the website.
Before the forum was taken down, one of its moderators posted:
The fucking admin has disappeared. All people thinking we fucking mods in on it and we had no idea. We have no access to anything at all. All we can do is ban users and delete forum posts. We also lost everything. Invested so fucking much. No job, no security, now in fucking huge debt all because of "honest" promise of pay. I still have some kind of hope, but it's running out fast. I really really fucking hope this is just life problems for the admin team, but I have no idea. Thanks man for your support. This is a total fucking disaster though by the looks of it. I'm so fucking sorry for everything I've said in the past. I got scammed just like every other fucking person. Scared for my fucking life now people trying to fucking dox us because they think we're in on it. Fucked up man fucked up.
So, another major bitcoin black market is gone, along with users money. But in case, if Sheep Marketplace somehow comes back, I will definitely let you know !