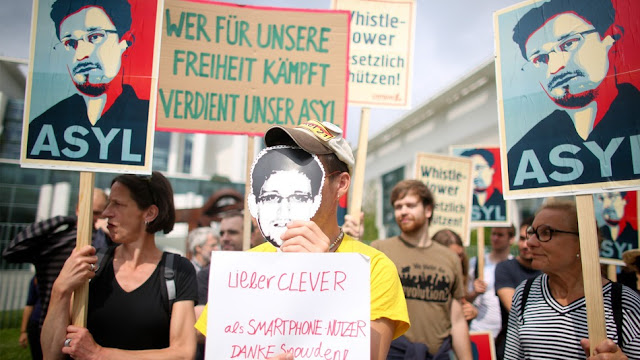 Members of Iceland's
Pirate Party
have introduced a proposal in Parliament that would grant immediate citizenship to
National Security Agency
Whistleblower
Edward Snowden
.
The government is however not keen on helping Snowden. The bill to grant Snowden citizenship received limited support Thursday. Six members of minority parties were in favor out of Parliament's 63 members.
Ogmundur Jonasson, Icelandic MP for the Left-Green Movement, said at parliament this morning that US authorities violated the Icelandic constitution when they spied on Icelandic citizens. He referred to the 71st article of the constitution which states: "It is not allowed to search a person, his house or personal effects, unless according to a court order or a special legal basis. The same thing applies to research on documents and mail deliveries, phone calls and other telecommunications..."
Snowden is believed to be stuck in a
Moscow airport
transit area, seeking asylum from 21 countries, including Iceland, though none of his requests have been granted so far. But to apply for
asylum
in Iceland, Snowden would have to reach the island nation's soil, which appears to be a thin possibility with a
revoked passport
.
Leaks by Snowden, a former NSA systems analyst, have revealed the
NSA's sweeping data
collection of
U.S. phone records
and some
internet traffic
, though U.S. intelligence officials have said the programs are aimed at targeting foreigners and terrorist suspects mostly overseas.
From a different report, Edward Snowden Resume states that he is certified as an "ethical hacker," or an expert in hacking techniques and thinking who uses his skills on behalf of an employer.
Italy's foreign minister on Thursday said it also could not grant Snowden's asylum request to their country because he is not on their soil. Also, French Interior Minister Manuel Valls told that France would not process Snowden's request.